Now receive UCO Bank Account statement in PDF format to your email address anytime through mobile banking and UCO mPassbook. The customer just needs to request account statement through mobile banking or mPassbook and it will be sent on your registered email address.
For your information, UCO Bank is public sector Bank owned by Gobetemnt of India. You can apply saving account here with 1000 deposit with all banking facility.
If you are UCO Bank customer and want to view account statement in PDF format on your phone then read this step by step guide and receive account e-statement to your email address.
UCO Bank Account Statement PDF Download
You can use UCO Mobile Banking or UCO mPassbook application to receive account statement PDF file on your email address.
1# UCO PDF Account Statement Through Mobile Banking
UCO Mobile Banking is free service, just install mobile banking application from play store/iOS and register your account. Read: UCO Bank Mobile Banking Activation
See how to get account e-statement PDF file to email address:
Step 1# Open UCO Mobile Banking application and log in.
Step 2# After login, first register your email address. Tap on Setting and then select Update Email ID.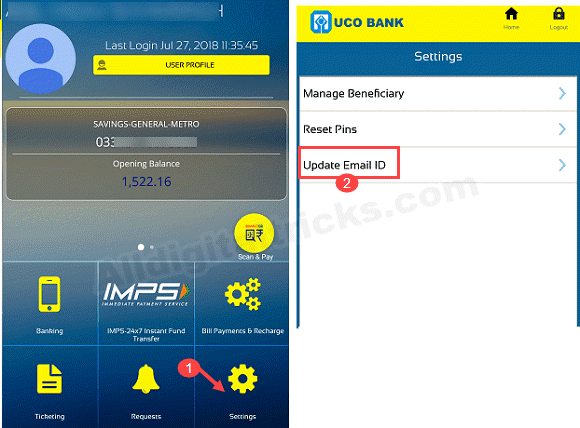 Step 3# Now tap on Update email ID and next screen enter your email address and submit.
After registering your email ID, now you can request account statement.
Step 4# To request account statement, just tap and open Banking tab as you can see below screenshot. Next screen, select Account statement.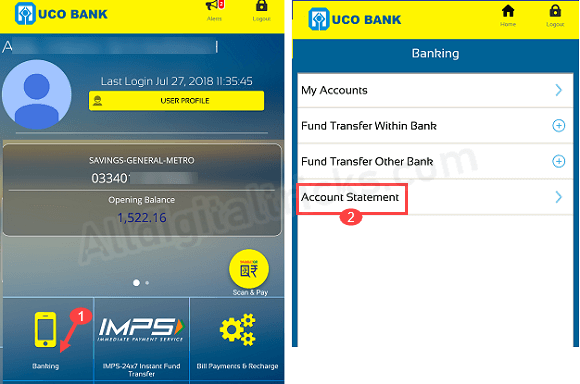 Step 5# On next screen select date and select "Send Statement via Email" and tap on Generate.
All done! your account statement request sent successfully. Now you will receive account statement in PDF format within 24 hours or less.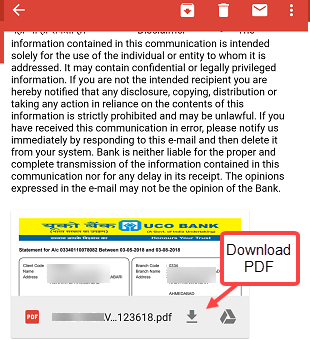 To open your UCO bank account statement password protected PDF file, please enter Customer ID or registered mobile number when asking for the password.
2# Using UCO mPassbook
UCO Bank mPassbook is digital passbook application allows you to view account details and activity. You can also request for statement using this application.
1# Open UCO mPassbook application and login.
2# After login, tap on A/C Statement. Now enter your email address, select one, two or three months period and select PDF in statement type. Tap on proceed.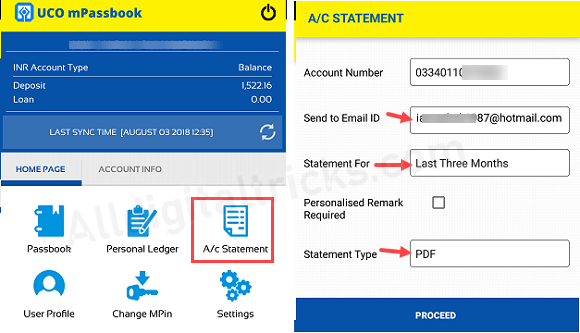 That's it, the account statement will be delivered to your entered email address instantly.
So this is how UCO Bank customers can receive account statement in PDF format to his/her email address.