If you wish to enable International transactions for your Canara Bank Debit card then you can do this online, no need to visit Bank. Global Usage (International usage) of Debit Cards is blocked to prevent fraudulent transactions. International Usage for Canara Debit card can be enabled through Net Banking or by submitting a request at the base branch.
After activating International usage for your Canara Bank Debit card, you can make an online International payment, withdraw cash from any ATM and also pay money through POS.
Canara Bank VISA and Master Card support International payment. Many users also mentioned that the Rupay card also supports International usage (not sure).
So here is the step by step process – how to activate International usage for Canara Bank Debit card.
Activate International transactions for Canara Debit card
Login to Canara Bank Internet Banking.
After login, click and open Cards section. Here you will find International Usage, click on it. Now click on Enable/Disable International Debit Card. Select your Card number and click on confirm.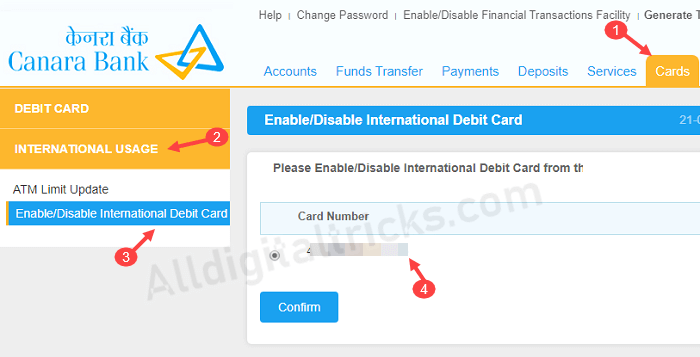 Next screen select Enable option and confirm your request. That's it. International transactions for your Canara Bank Debit card has been enabled successfully.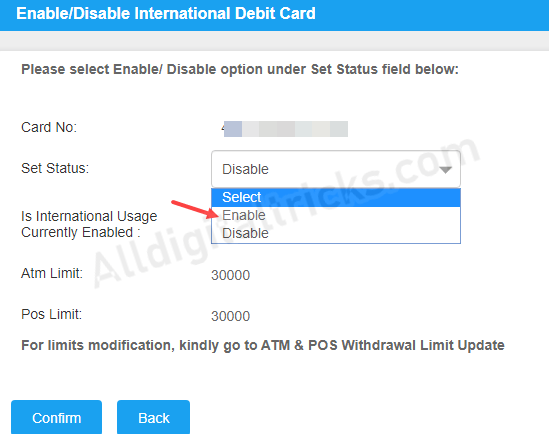 You can also block global usage anytime by selecting the Disable option.
FAQ
Q.1: How do I activate my Canara Bank Visa Debit card for international payments?
Ans: If your Canara Debit card supports International usage then you activate International transactions through net banking. Please follow the above steps.
Q.2: What is the process to enable international transactions on a Canara Bank debit card?
Ans: You can enable global transactions for your Canara Debit card online using net banking. Please login to Canara net banking and follow the above process.
Q.3: International payment declined on my Canara Bank Debit card, why?
Ans: Make sure you have enabled International usage for your Debit card. Please check it online using net banking. Another reason is that your Debit card not supporting global payment, please confirm this by connecting to the bank.