UCO Bank customers can now enable/disable ATM withdrawal (transactions) using Mobile Banking and UCO secure application. If you want to temporarily disable ATM transactions for your UCO Bank ATM Debit card then you can do this through Mobile banking and UCO secure app.
Sometimes you need to temporarily disable your ATM Card for ATM transactions so no other person can use your Debit card and withdraw money from your account. If you also face such a problem then you can use Mobile Banking or UCO secure application and disable ATM withdrawal for a temporary basis.
1. Disable UCO ATM Transactions (Withdrawal) using UCO secure
UCO secure application lets you manage your ATM Debit card online and enable/disable its features like POS, ATM and online.
You can easily enable/disable your ATM card for withdrawal using UCO secure application.
Login to UCO secure app. If you are not registered, please register yourself.
Now tap on the ATM Debit Card option.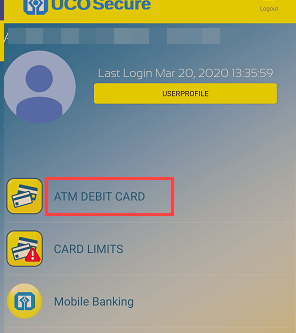 Select your account number and Debit card number. Now select "Disable" option for ATM and submit.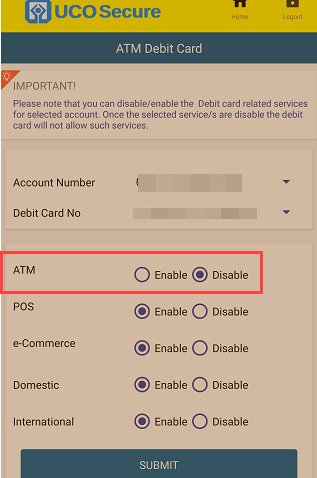 That's it, now you can not withdraw money from any ATM. You need to enable the ATM option to withdraw money from the ATM.
Disable UCO ATM Transactions using Mobile Banking
UCO Mobile Banking application is another way to temporarily enable/disable ATM transactions for the UCO ATM Debit card.
Login to UCO Mobile Banking app.
Now tap on UCO secure.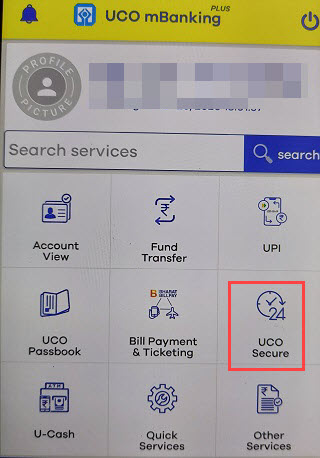 Next screen select ATM Debit card option.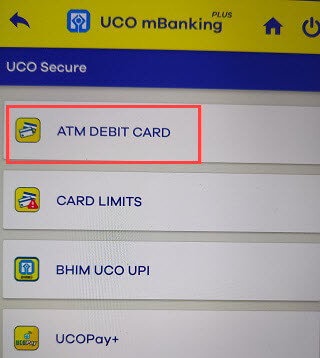 Now select your account number and card number and choose "DISABLE" for the ATM option as you can see below screenshot.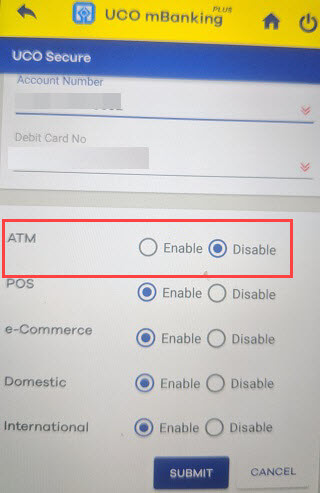 Whenever you want to withdraw money from ATM, you can enable your ATM card for withdrawal.
Related Queries
Q.1: How to temporarily suspend UCO Bank ATM Card Withdrawal?
Ans: You can temporarily suspend ATM withdrawal for your UCO ATM card by login to UCO Mobile banking and UCO secure app.
Q.2: Disabling ATM withdrawal, Can I use my ATM Card online?
Ans: When you disable ATM transactions, you can not withdraw money from ATM but you can use your card for online transactions.