If you are unable to do any transactions through SBI net banking, possible that you have not enabled full transactions rights during registration or bank has not enabled it, and currently, you have just view account rights only.
Without Full Transactions Rights in SBI net banking, you can't transfer money online, can't change the mobile number or other details, can't open FD or RD and unable to use many other services.
So how to enable Full transaction rights on SBI net banking to access full all net banking features? Well, you can enable full transaction rights online without visiting the branch.
See step by step guide and enable full transaction rights for your SBI Internet Banking account.
Enable Full Transactions rights in SBI Net Banking
1# Login to SBI net banking account, visit: https://www.onlinesbi.com
Enter User ID and login password and click login.
2# After login, click and open "Request & Enquiries" tab and click on "Upgrade Access level"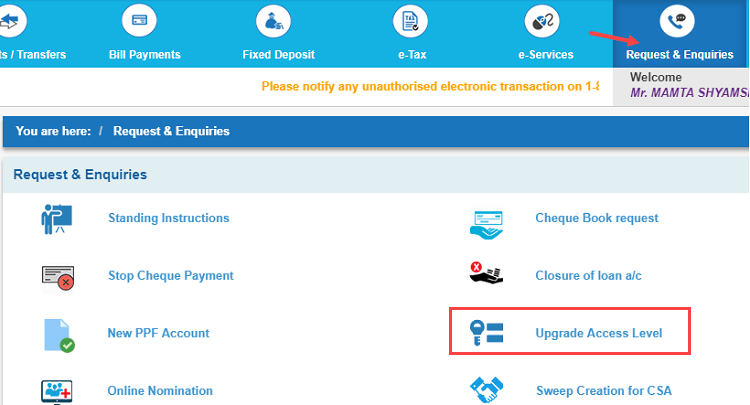 3# Now select your Account number, you can see the current status is View only. In upgrade access level to, select "Full Transactions Rights" and click on submit.

4# Now you will receive One Time Password on your registered mobile number, enter this OTP on next screen and confirm your request.

Done! you have successfully upgraded your access level to full transaction rights and now you can use all banking services through net banking.
Update: And now SBI customers can also change or upgrade transaction rights using SBI YONO Mobile App. Please read this guide: How to change transaction rights for SBI net banking using SBI YONO
So this is how SBI customers can upgrade net banking access level to full transactions rights online without visiting branch. If you are facing any issue regarding this, please fill this complaint form and submit, click
FAQ
Q.1: How to upgrade access level for net banking in SBI?
Ans: If you have limited transaction rights for net banking then you can upgrade your access level directly through net banking, please follow the above steps. You can also upgrade your access level using SBI YONO.
Q.2: Do I need to submit an offline application to get Full transaction rights in SBI net baking?
Ans: No, you can upgrade your access level using SBI net banking. No need to visit the Bank.