Now you can use your SBI International Debit card on PayPal and International websites to make payment online. Yes, SBI International Debit cards now support PayPal and International transactions.
You can link your SBI Classic, Global, Gold & Platinum International Debit cards with PayPal, and also you can use it at authorized websites.
To use your SBI Debit Card for International transactions, first, you need to activate International usage and e-commerce usage for your SBI Debit Card.
Today we will tell you how you can enable International usage for your SBI Debit Card in different ways.
Enable International Usage for SBI Debit Card (4 ways)
After enabling International usage for your SBI Debit Card, you can use your Card at International ATMs and also use your card for online purchases.
Follow these 4 methods to activate International and e-commerce usage for your SBI ATM/Debit card.
1. SBI YONO Lite Mobile Banking Application
SBI YONO Lite is one of the best mobile banking application for SBI customers. You can access online banking services like fund transfer, recharges, check balance, Debit card services, and much more.
Let's see how to enable International usage for your Debit Card on SBI YONO Lite.
1: First of all you have to log in on SBI YONO Lite Mobile Banking.
After logging in, tap and open Services and next tap on Manage Debit Card.
2: And next screen, select your Account number and Debit Card number. Now turn on International usage and e-commerce (CNP) txns and submit.
International Usage: By enabling this option your card will work on the international level. Such as ATM machine, online website
E-commerce (CNP) txns: To make an international online payment, you need to turn on this option.
2. SBI Internet Banking
This facility is also available for you on Internet Banking.
First, you have to go to https://www.onlinesbi.com and log in.
After logging in, click and open e-Services and then click on ATM Card Services.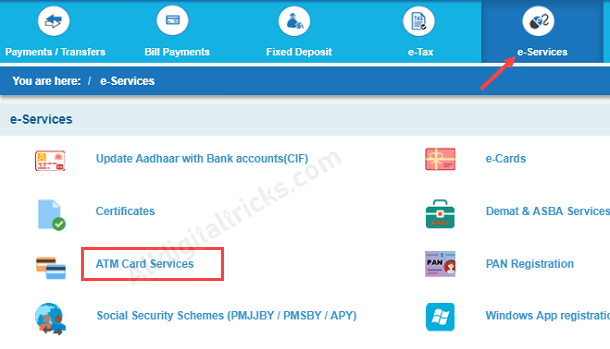 Next screen, click on ATM Card Limit/Channel/Usage Change.

Now select your Debit card number and in Services, select Change Usage Type.

In usage type, select International Usage and select Enable International Usage.

For online transactions, you also need to change Channel type, select CNP Channel and Enable it.

3. SBI Quick Banking
The third option SBI Quick Banking. SBI Quick is now part of the State Bank Anywhere. You can use this facility on SBI Anywhere. If you do not have an internet banking facility then you can choose SBI Quick to enable International usage for your debit card.
SBI Quick is SMS based Application so local SMS charges apply. Make sure you have enough balance at least Rs.10
First Install SBI Anywhere and open the application after installing.
After opening SBI Anywhere, you can see the SBI Quick Option. Tap and open it.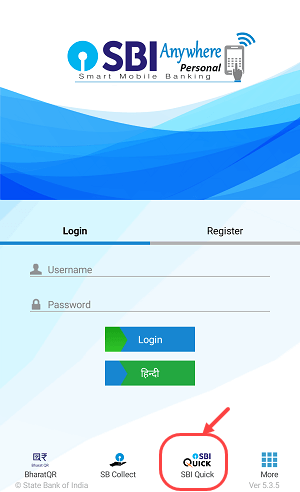 After opening SBI Quick tap on ATM cum Debit Card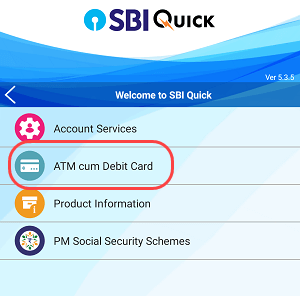 Now select ATM Card Switch On / Off in the next screen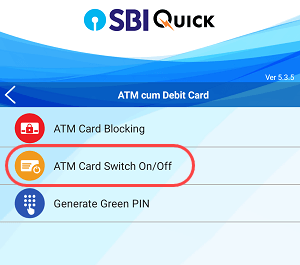 Next screen just type the last 4-digit number of your card and turn ON all options.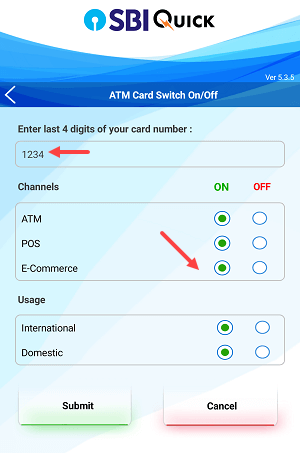 After selecting ON for all the options, submit it.
If your phone has enough balance then Message will be sent successfully and you will receive a success message.
4. Through SMS
You can also send the following SMS to activate/deactivate International usage and other usages for your SBI Debit Card. Send an SMS from your registered mobile number.
Send SMS to 09223966666
Service
SMS for Switch ON
SMS for Switch OFF
ATM
SWON ATM XXXX
SWOFF ATM XXXX
POS
SWON POS XXXX
SWOFF POS XXXX
e-Commerce
SWON ECOM XXXX
SWOFF ECOM XXXX
Domestic Usage
SWON DOM XXXX
SWOFF DOM XXXX

International Usage

SWON INTL XXXX

SWOFF INTL XXXX

Please note: XXXX is the last 4-digit of the ATM/Debit Card