Social Media Giant – Facebook is world's biggest online community, I'm sure you are one of them. Facebook has become an integral part of our life. We spend most of our time on Facebook.
So you access FB daily, But hey do you know about Facebook hidden features? If not, today I am going to tell you  hidden features of Facebook which most of the users do not know.
The Facebook team regularly adds new features but we do not have much time to know about them, we are totally unaware of such features.
So let's know about Facebook Secret Features  becomes even more smart user.
19 Facebook Features You Should Know
Although you use Facebook daily but there are many such features that you can not recognize, let's see what features they are.
1. Take a Break ( limit what you share with Friend or see less of him)
With take a break feature you can change when you see someone on Facebook, limit what you share with that person or edit past posts with them.
Visit this take a Break page – https://www.facebook.com/take_a_break/
Now search person from your friend list.
Now in Pop up window you can see different options.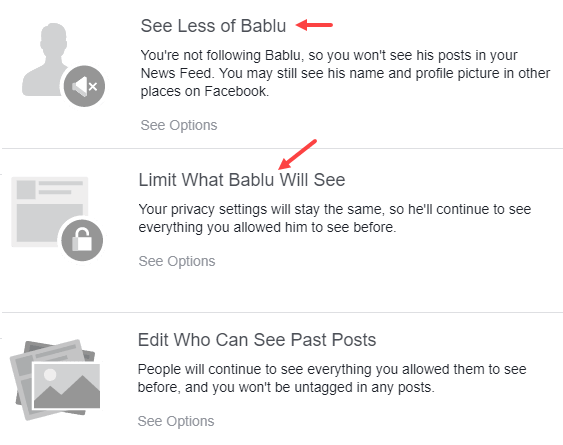 See Less of friend: unfollow, hide his/her posts from your timeline
Limit What friend Will See: Your privacy settings will stay the same, so he'll continue to see everything you allowed him to see before.
Edit Who Can See Past Posts: People will continue to see everything you allowed them to see before, and you won't be untagged in any posts.
You can set privacy setting for particular friend. This is very useful feature when you ignoring someone.
2. Save Any Post, Video
If you like a post or video on Facebook and you want to save it to see it in the future, then you can do it.
To save any video or post, just click on Down Arrow button on particular post and select "save video" or "save post" option.

After saving post, you can see all your saved post at Saved section. Visit home page and see Saved option on left side.
3. Download Your Photo Album
You can download your memorable photos from your Facebook account. You can download your complete Photo album where you uploaded many photos.
To download your photo album, open Photos.
Now open your Album.

You can see gear icon, just click on it and then click Download Album.
4. Download Your complete Facebook Data
So you are leaving Facebook but before that you want to download your complete data that include your shared Posts, photos, Videos, messages and chat conversations, profile information, yes you can download it.
You can download your complete account data.
To download your Facebook account data, open settings.
In Settings, Click on General.
Here you can see ""Download a copy of your Facebook data" , click on it.
5. See your Full Activity Log
You have passed many years on Facebook, do you know how many comments you have posted, how many posts you published on your timeline?
At Activity Log you can see your full activity details that you have done on Facebook.
View your likes, comments, posts, photos, tagged posts and more on activity log.
To Views Activity Log, click on Down Arrow button on top and click on Activity log.
Here you can see many filters to view your activity details.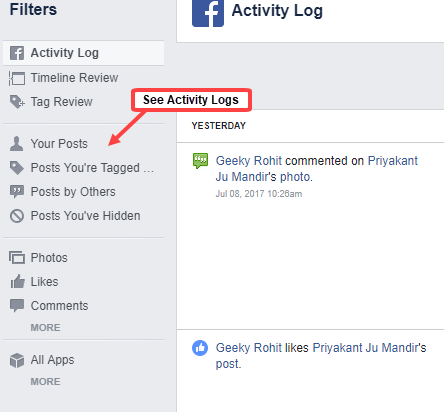 6. Timeline Review
Timeline Review controls whether you have to manually approve posts you're tagged in before they go on your Timeline. When you have a post to review, just click Timeline Review on the left-hand side of your Activity Log
Note: This only controls what's allowed on your Timeline. Posts you're tagged in still appear in search, News Feed and other places on Facebook
To Enable Timeline Review, Visit Settings— Timeline and Tagging
Now Enable "Review posts friends tag you in before they appear on your Timeline?"
7. Remotely Logout
Oh! shit, i access my Facebook account on my Friend's PC and i just forget to logout. Same situation for you?
Suppose you access your FB account from cyber cafe or friend's personal computer and forget to logout, now what you will do?
Don't worry you can remotely logout.
Click and open Settings.
Now click on Security and login tab.
Here you can see "Where You're Logged In" option to see list where you currently logged in.

Now click on "Logout of all sessions" and you are done.
9. Recover your Account through Trusted Contacts
For some reasons suppose you unable to access your FB account and facing lockout issue then your trusted friends can help you to get back your account.
Your trusted contacts can send a code and URL from Facebook to help you log back in.
Your trusted contacts should make sure it's you before giving you security codes.
Enter the codes from your trusted contacts, and you'll be able to access your account.
To enable this feature Open Settings.
Now click on "Security and login" tab.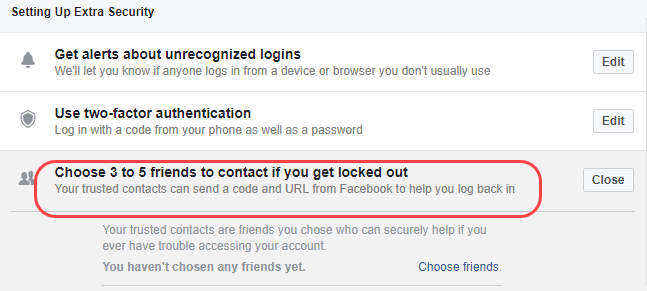 Now click on Edit on "Choose 3 to 5 friends to contact if you get locked out" and select 3-4 trusted contacts.
10. Look Who is Snooping in your Account
Want to know if someone is logged into your Facebook account without your permission?
First, go to your settings page.
Under the Security and login tab, you'll see the link "Where You're Logged In."

Here you will find all your active Facebook log-ins from desktop or mobile. It will (usually) provide data on the location, browser, and device. If something seems fishy, you also have the ability to "logout" from individual or all devices.
11. Access Secret Emoji
Emoji is a great way to show your mood. They take away some of the horrible pain of writing in plain language.  Facebook will render all the usual face emoticons into pictorial representations. But there are a whole bunch you may not be using.
You can use these in wall posts, chats, and comments, but they don't always render in mobile. You can find a full rundown of Facebook emoticons here
12. Transfer Files Over Messenger
If you open a Facebook Messenger window, there's a little paper clip icon along the bottom. This allows you to upload and send a file directly from your computer. The receiver can just click on the included link and download them from there.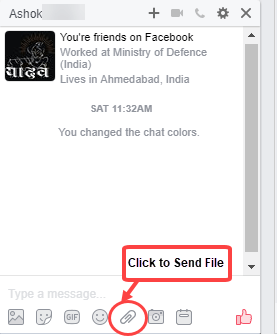 13. Create Beautiful Post
If you are interested to write some big Articles on Facebook then here is Facebook Notes for you. While status updates that you post to your Wall have a limited character length and no HTML capability, Notes lets you write full-length posts with formatting, tagging and pictures.
To create your notes, just visit Facebook Notes and start writing.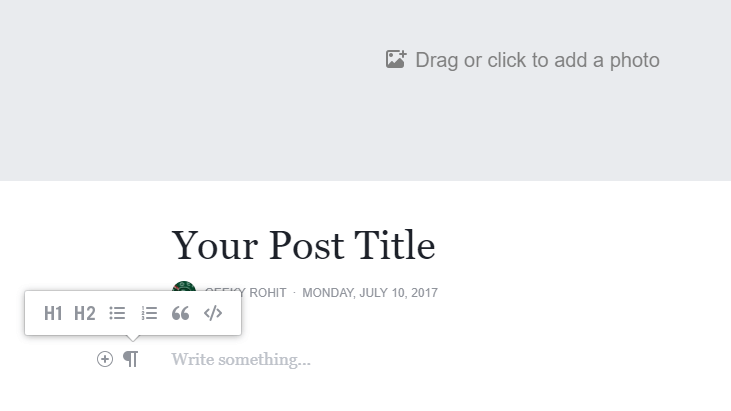 You can add cover image, Add headings, add images middle in post, embed content, create bullet list and much more.
14. Login With Profile Picture
You can use this feature on your personal computer where you login and logout frequently on Facebook. Using this feature you don't need to enter user ID or password to login FB, you just need to click on your profile picture and you are logged in.
To enable "login with profile picture" open Settings.
In Settings open "Security and login tab"
Now in Login section you can see'Log in with your profile picture'.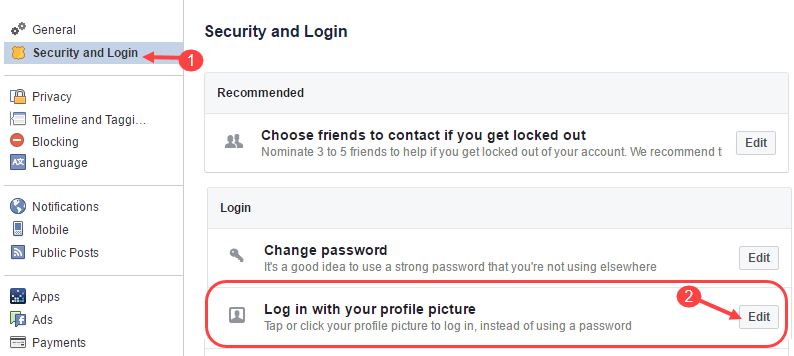 Turn this feature ON.
15. Add Two-factor Authentication Security
Two Factor authentication adds extra security layer to protect your account. Facebook also provides you this feature. You can enable this feature if you are worry about hacking or suspicious activity.
To Activate two factor authentication for your account open Settings — Security and login
In Setting Up Extra Security section you can see "Use two-factor authentication"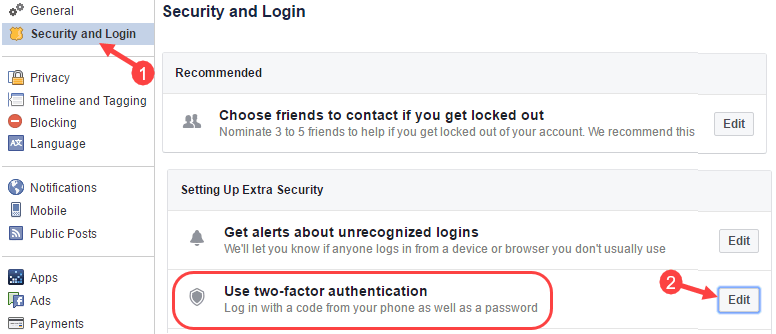 You must register your phone number to receive OTP, so register your mobile number and enable authentication feature.
16. Create Custom User Name
By creating custom user name, you can create your custom profile link so anybody can find you easily.
Without custom user name your profile address looks like this:
https://www.facebook.com/profile.php?id=1000047254514353535
After creating custom user name your profile address looks like this:
https://www.facebook.com/ashok
To create custom user name, Open Settings.
In General tab, you can see User name option, click on edit & set your user name.

17. Automatic Publish Facebook Post on Twitter
If you are posting same posts on Facebook and twitter, then no need to open twitter to publish same post. You can link your facebook profile with twitter and your Facebook Public posts will automatically published on twitter and same your Tweets and Retweets will automatically post to your Facebook wall.
To link your FB profile with twitter, just visit this link – https://www.facebook.com/twitter
Now click on Link To Twitter.
18. Curate your News feed
Your News Feed is your home on Facebook. And as your home, you should try your best to keep it clean, orderly, and free of distractions.
There are many friends on your Facebook, you follow many pages but it is not necessary that you like to see all those posts on your news feed. If you want to show only posts from your favorite people on your news feed, you can do so and stop spam in your news feed.
To curate your news feed, head over on top and click on Home.
Now in left side you can see "News feed" Just click on three dots and you can see "Edit preferences"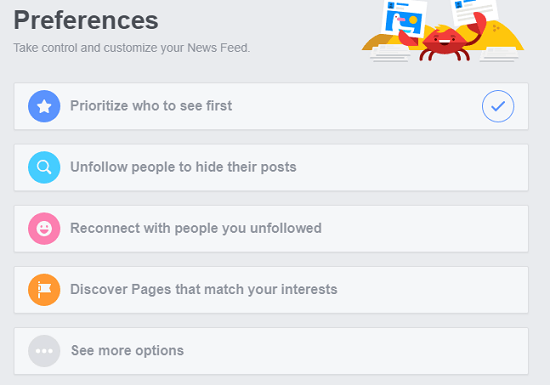 Prioritize who to see first: Choose whose posts you don't want to miss. You'll always find them at the top of your News Feed.
Unfollow people to hide their posts: Click to choose whose posts you want to stop seeing in your News Feed. Only you will know.
19. Embed any Public Post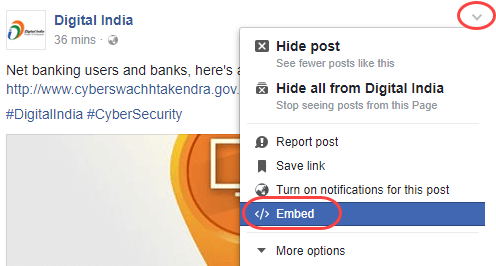 Like other social media sites, Facebook allows you to embed publicly available content on your webpage. Just click the pull-down menu in the top right of the file and click "embed" to capture the code you can place on your site.
More Features, Coming Soon!