Federal Bank customers can open Fixed Deposit (FD)/term deposit account online through mobile banking in just one minute, no need to visit Bank.
Federal Bank gives you a higher Interest rate compare than other private and public bank. Above 1 year, you will get up to 7.30% interest on your deposit. You can check FD rate here, click
Here we will tell you how to open FD account instantly through Federal mobile baking. If you are Federal Bank customers can want to invest some money in FD then read this guide.
Open FD in Federal Bank online
Federal Bank Mobile Banking facility enables you to open FD account instantly. You don't need to visit the bank and fill the form.
Just follow below steps:
Step 1: Login to FedMobile Banking application and tap on Deposits option.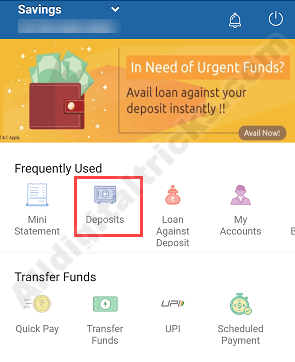 Step 2: Now select the Fixed option, enter the deposit amount (Minimum amount is Rs.1000 & maximum 10 lac), select months (duration), select category monthly Interest, quarterly interest, yearly interest. You can tap on the calculator to check your maturity amount and applicable interest rate.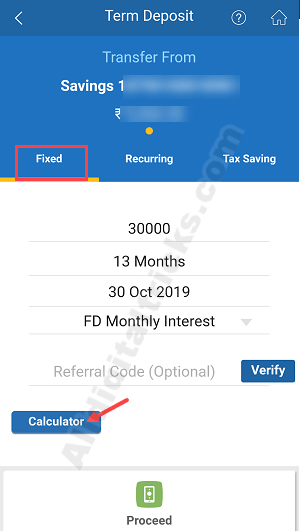 Now tap on proceed.
Step 3: Finally confirm your request by tapping on the confirm button.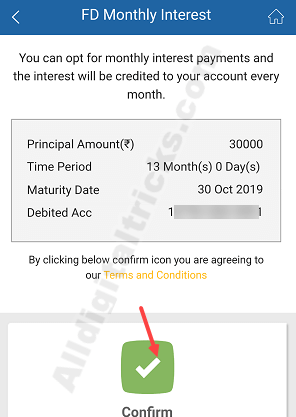 Next screen, enter your MPIN.
Done, your Fixed deposit account opened successfully. You can see your Account number.
If you selected monthly interest on category then you will receive interest amount every month in your saving account. In Quarterly interest, you will be paid interest every three months.
You can check your FD account details anytime through Mobile Banking, just tap on My Accounts tab.
Federal bank customers can also use Internet banking to open FD account online.
I hope this article really helpful for Federal Bank customers who want to open FD account online without visiting branch. You can choose the Federal Bank FD account for the higher interest rate.