In this post, we will tell you 7 ways to Find your SBI account IFSC code. You can follow these 7 methods to know your SBI branch IFSC code.
IFSC Code also known IFS code is an 11-digit Indian Financial system code which used to initiate electronic fund transfer like NEFT and RTGS. A code uniquely identifies each bank branch participating in the two main Payment and settlement systems in India.
When you transfer money online to another bank account through NEFT, RTGS or IMPS, you need to enter IFSC code to identify correct branch where beneficiary hold his/her account. Similarly, you need to share your account details including your branch IFSC code to receive money online.
So here we will tell you how to find your SBI account IFSC code, know your SBI branch IFSC code.
Find Your SBI Account IFSC Code (Your Branch IFSC Code)
There are many ways to know your SBI branch IFSC code. Here are some ways which you can follow to find it.
1# Through SBI Net Banking
You can easily find your SBI branch IFSC code through net banking. SBI net banking is available free and you can register online for this service.
1- Login to SBI net banking and click on My Accounts & Profile and click Account statement.
Now just select your Account number, select Last 6 month and select View. Click on Go.
Next screen you can your Account details including your IFSC code.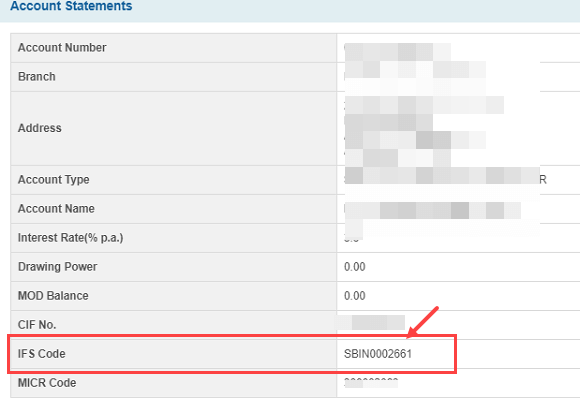 2# SBI Mobile Banking (SBI Anywhere)
SBI Anywhere Mobile Banking facility is another way to check your branch IFS code.
1- Login to SBI Anywhere personal application.
2- After login, tap and open My Accounts and then open Accounts Summary.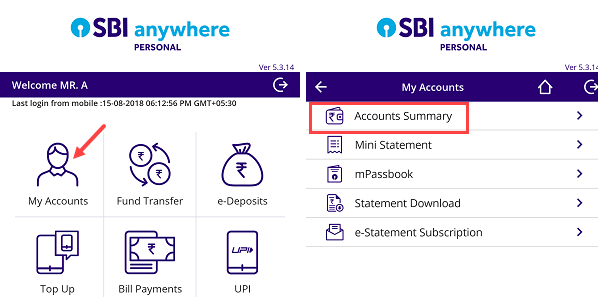 Now you can see your Account number and balance, just tap on it. Next screen you can see your IFS code.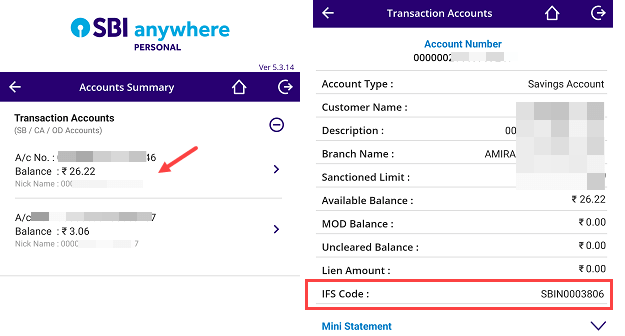 3# Online Through Websites
Some trusted websites available on the Internet where you can see all Banks IFSC code. You can find your branch IFS code here very easily.
1- Visit this website: https://bankifsccode.com/
2- Now select State Bank of India, your State, City, and area branch. You can see all details of branch including IFSC code.
4# Through any UPI Application
UPI application is another best way to check your SBI Bank account branch IFSC code. UPI application verifies your Bank registered mobile number and show your account number and IFS code.
You can try paytm or any UPI application like phonepe, Tez, Mobikwik or official SBI Pay UPI application.
Here I'm using BHIM application. Just open the application and verify my bank registered mobile number.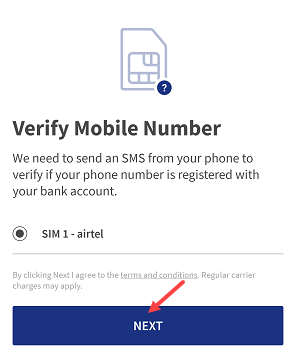 After verifying your mobile number, select State bank of India from bank list. Next screen you can see your SBI account number and IFSC code.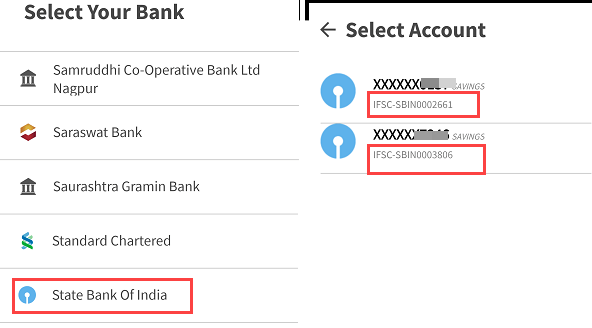 5# Account e-Statement
You can also check your SBI account e-statement to view your IFS code. If your email address is registered with your bank account then you can request your last 6-month statement by sending an SMS.
6# Your SBI Cheque Book
And this is an offline method, you can view your SBI account branch IFS code in Cheque book leaves.
7# Physical Passbook
SBI physical passbook is another option to view your branch IFS code. Just open the front page of your passbook where all account details are printed. You can see your IFSC code also printed on the front page.
So this is how SBI customers can find their branch IFSC code. To receive money online through IMPS, RTGS, and NEFT you need to share your IFSC code with account number with the sender.