Flipkart Pay later facility now only available for those who have completed KYC which is now mandatory for all customers. If you are using Flipkart Pay later and not completed KYC then you cant access Pay later service. You need to complete online KYC first which takes just 1 minute to complete.
According to Flipkart "There has been a change in the lenders that powers Flipkart Pay Later for you. To continue enjoying your Flipkart pay later benefits, please complete the KYC."
Flipkart Pay Later facility allows all customers to buy any products and pay later next month. The limit of Pay Later account starts from Rs.5000 and it will increase if you pay your dues on time.
Here we will tell you how to complete KYC online for Flipkart Pay Later account in just one minute.
Re-activate Flipkart Pay later By complete KYC Online
To complete KYC for Flipkart Pay Later account you just need to submit your PAN Card number and Aadhaar card number and complete one-time authentication using Aadhaar registered mobile number.
Step 1: Open Flipkart Pay Later account and you can see it is asking for submitting KYC, tap on Submit your KYC.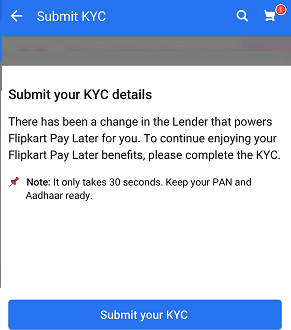 Step 2:Next screen enter your PAN Card number, your Aadhaar card number and continue.
Step 3: Now you will receive OTP on your aadhaar registered mobile number. Enter this OTP and click on verify.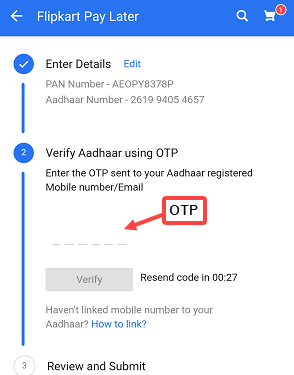 Step 4: After OTP verification, now review your details are correct and submit your details.
Done! you have successfully submitted your KYC to reactivate Flipkart Pay later. Now you can use your Pay Later account again.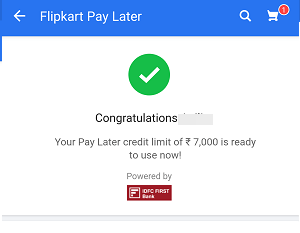 FAQ
1: Is it safe to submit Aadhaar, Pan details?
Ans: Flipkart Pay Later service is powered by IDFC bank so yes it is safe to submit your details to complete KYC.
2: My Mobile number not registered with my Aadhaar card, how to receive OTP.
Ans: First register your mobile number with your Aadhaar card to receive OTP for verification.