Now buy your products on Flipkart and pay later. Flipkart has launched "Pay Later" facility for customers to buy products without credit card or net banking. Just select Pay later option and you are done.
For some reasons, if you don't have money in your Bank account and you have to shop something on Flipkart, in this situation you can select "Pay Later" option and get delivered your item. You need to pay the purchased item amount next month.  In case of any refunds/ cancellations, there is an automatic adjustment made in their account and there is no need to pay for such purchases.
Flipkart Pay Later facility available for selected sellers, you can see this option during payment.
Some Highlights:
Get up to Rs.5000-10000 instant Credit and pay later next month
Shop with just a single click ( No net banking, no cards)
No Interest on your credit amount
No documentation required
See how to use Flipkart Pay Later.
How To Buy Items On Flipkart Using Pay Later
Please note, up to Rs.5000 – 10,000 credit amount available for your account, so purchase the item under this price range.
1 – Select your Products and tap on Buy Now.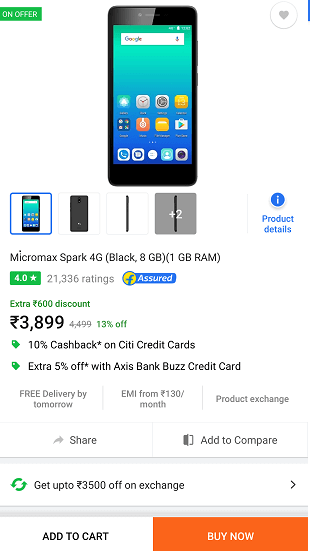 2 – Confirm your address details or Add new address and continue.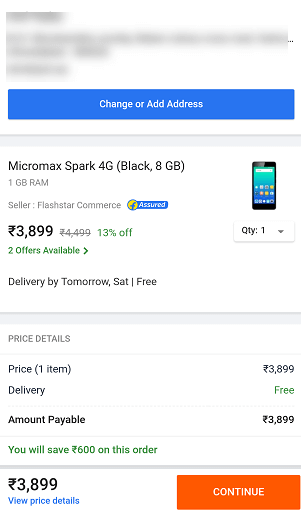 3 – Now on payment page you can see "Flipkart Pay Later" option. You can also see the date of next month when you have to pay this amount. Just select this option and continue.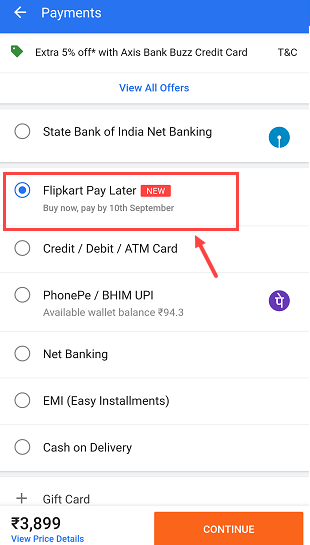 Congrats, your order is placed. It will be delivered within 2-4 days.
You need to pay the due amount 10th of next month through the mobile application. Please read terms and conditions before using this facility.
How To Check your Flipkart Pay Later Credit Limit?
You can check your current credit limit on Flipkart mobile application.
Open Flipkart application and select My Account. Next screen you can see Flipkart Pay Later, just tap on View Details.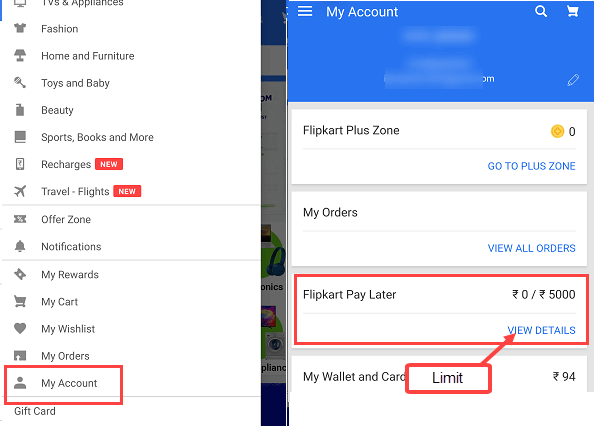 Now you can your available credit amount and how much spent from it. You can also pay your due amount here using net banking, debit or credit card.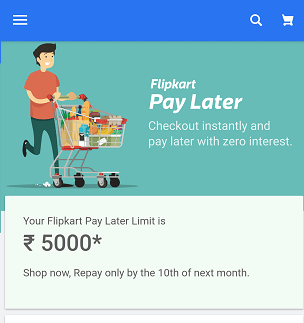 What happens if you don't Pay due?
Your account will be canceled and in future, you can't shop on Flipkart. Also, Flipkart has rights to take legal action against you. Read terms and conditions.
So when you don't have money and want to purchase some items on Flipkart, just use Pay Later. For more details, visit the FAQ page.