If you also forgot your SBI ATM / Debit card PIN, you can get your PIN online instantly. No need to visit bank or ATM.
The 4 digit ATM PIN number should be changed periodically but sometimes we forget this pin. If you enter wrong PIN for three times, the card will be blocked for a day.
Now State bank of India gives you online facility to create your new pin online instantly without visiting branch for physical PIN or ATM.
If you also forgot you SBI ATM / debit card PIN then follow this step by step process and create your new pin instantly.
Forgot SBI Debit Card PIN – Get New PIN Online
You must have SBI Internet banking facility to avail this facility. If you are not registered with net banking then read: How to activate SBI net banking online
Now follow this step by step process:
1: First login to SBI net banking.  https://www.onlinesbi.com
2: After logging in, you have to click on e-Services — ATM Card Services.
3:In ATM Card Services, you have to click on ATM PIN Generation.

4: Now you will get 2 options for validation. (1) OTP (2) Profile password. You can select any option. (If you select OTP then enter OTP which comes on registered mobile number in next screen & if you selected profile password, then enter your profile password)
5: In next screen, select your account number and click on continue.

6: Now you have to select your ATM card and submit it.
7: Now you have to enter first two digits of your desired PIN. Enter two digits and submit.

8: Now in the next screen you have to enter your 4-digit PIN number. Insert the first 2-digit that you entered in the previous step and then enter the last 2-digit that you received via SMS. In this way enter 4 -digit PIN and submit it.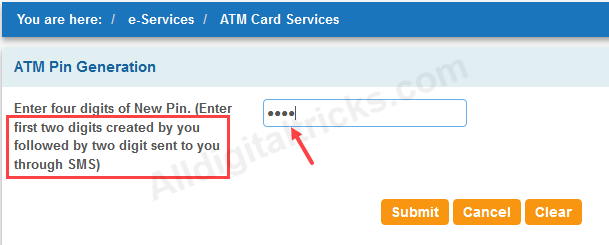 That's it, you have successfully set your new PIN and now you can use this PIN.

So whenever you forgot your SBI ATM debit card pin, set your new pin online instantly without visiting branch or ATM. You can also follow same process if your card is new and physical PIN is not received.
Read Also: