Google Pay QR code is now another fastest way to make payments and transfer money to any bank account through UPI. No UPI ID, mobile number, or any bank account details are required, just scan the QR code, enter the amount, and transfer the money to the receiver's bank account.
Generate Google Pay Single Primary Bank Account QR Code
If you have linked only one bank account with your Google Pay then it is your primary bank account and all your payments and money will be received in this account. You can share your UPI ID, UPI number, and mobile number to receive payments.
Now you can also generate a QR code for your bank account and share it with the sender to receive the money and payments.
To generate or check your primary bank account QR code, just open the Google Pay application and open the profile section by clicking on the profile image. In the profile section, you can view your primary bank account and its UPI ID. Tap on the QR code to view your QR code on the screen.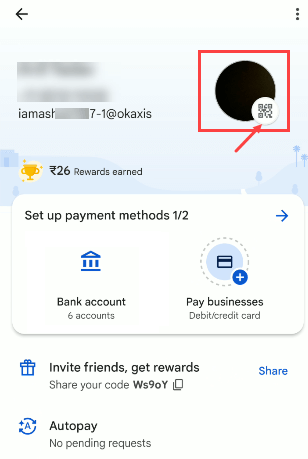 And the next screen you can view your QR code. To share this QR code with the sender, just take a screenshot and share it through WhatsApp or any social media app. The sender will scan this code and transfer money to your bank account.
Check or Generate QR code for Multiple Linked Bank Accounts
If you have two or more (multiple) bank accounts linked with Google Pay, then you can generate separate QR codes for each bank account and receive payments and money by sharing any bank account Qr code. Each Bank account has a separate QR code.
For instance, if your primary bank account is not working to receive money and payments, you can share other linked bank QR code with the sender and receive your fund.
To check or generate QR code for multiple bank accounts, just open the profile section and tap on the "Bank Accounts"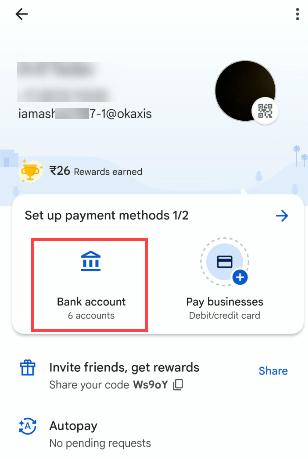 Next screen you can see all your linked bank account list, select any bank account to generate or view its QR code.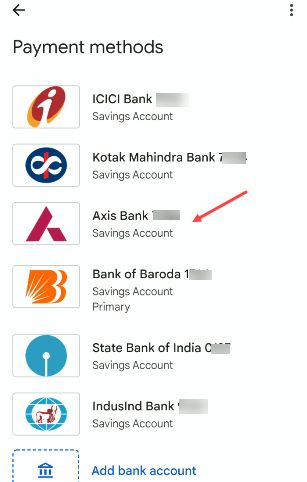 Now you can see "Display QR Code" option for the selected bank account, tap on this option.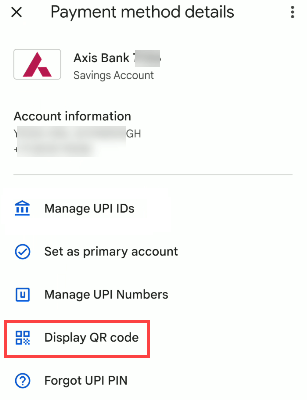 Now you can view your QR code for the selected bank account.
So this way you can use the Google Pay QR code to receive payments and money from the sender.