If you are worried about the security of your SBI ATM / Debit Card, especially when you use it online, then instead of using your ATM/Debit card you can use SBI virtual card.
Now question is that what is – SBI virtual card after all?
Also Read: How to apply SBI Debit Card online?
What is SBI Virtual Card?
You can use SBI Virtual Card – to make an online payment. This is not a physical card, but you can generate it through internet banking or SBI Anywhere.
After generating SBI Virtual Card, it is valid for only 24-48 hours and after that it will expired automatically. If you do not use card amount then it will be credit back to your account. You can set limit for your virtual card minimum Rs.100 to Rs.50,000.
Keep in mind that this Virtual card only work for domestic level and you can't make payment internationally.
So let's generate SBI Virtual Card?
1# Generate SBI Virtual Card On Internet Banking
If you have the facility of SBI Internet Banking, then you can easily create your Virtual Card and use it online.
1 First of all, you have to login to Net Banking. Visit this link to login.
2 After logging in, you have to click e-Services — e-Cards
3 Now on the next screen you have to select your account number and then enter the limit of the virtual card. You can set a limit of Rs.100 to Rs.50,000.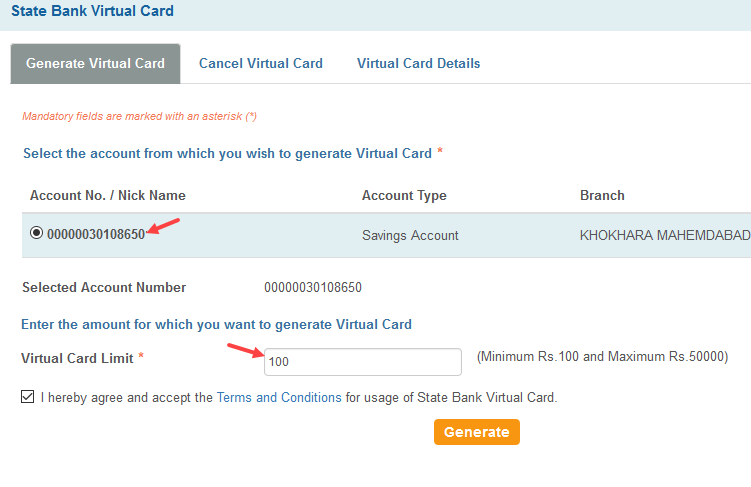 Now click on Generate.
4 Now, on the next screen, you have to verify all the details by clicking on Generate.
Now enter OTP password which arrive on your registered mobile number.
Done, your SBI Virtual Card has been created. On the next screen, you can see your card with card number, CVV and expiry date.
You can now use this card to make online payment such as Shopping website, Billing site or recharges etc
You can also cancel this card manually if you don't want to use. To cancel this card just click on Cancel tab and select this card.
2# Generate SBI Virtual Card on SBI Anywhere
You can also generate your Virtual Card on SBI Anywhere (Personal) Application which available for Android, iOS.
1: Login to SBI Anywhere and tap on Services
2: Next screen tap on State Bank Virtual Card.
3: Now tap on Generate Virtual Card in the next screen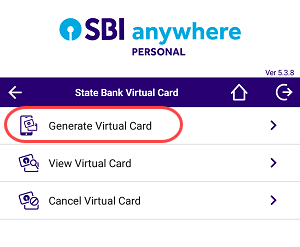 4: Now select your account number and select the limit of virtual card (Rs.100 to Rs.50,000) and click Generate
So in this way you can Generate SBI Virtual Debit card online for domestic online payment. Let me tell you once again that this card work only at domestic websites.
Read Also: