Without transaction Password, you can not use Canara Bank net banking services. You need to enter this password to initiate any transaction or service activation.
After Canara Bank net banking activation, you need to generate transaction password for Canara net banking by login to your account. This is the second security password for net banking.
After Canara Bank transaction password activation, you can use online services and transfer money to any bank account.
Here we will tell you how to generate transaction password for Canara Net banking. If you forgot your Canara Bank transaction password then you can reset your password by following the below process.
Generate Canara Net Banking Transaction Password
Canara net banking facility available for all customers and you can enable this facility online using Debit card. If you already activated net banking then you need to set transaction password in the next step.
Step 1: First you need to login to your Canara Net Banking account, visit: https://netbanking.canarabank.in
Step 2: After login, click on Generate Transaction Password. Now enter your 16-digits Debit card number, ATM PIN and Expiry Date (MMYY). (You can find card number and expiry date on the front side of the card)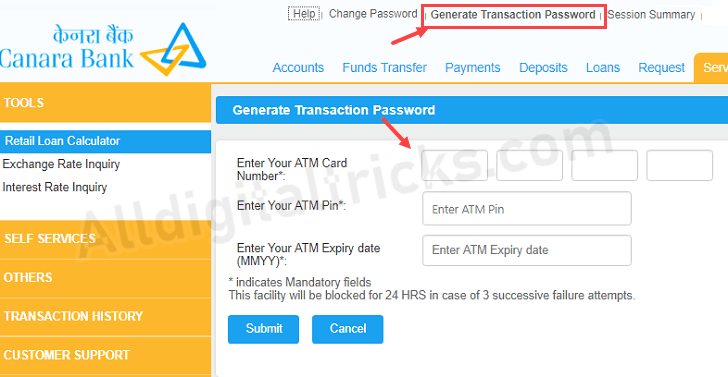 Step 3: Next screen, you will receive OTP on your registered mobile number, enter OTP and submit.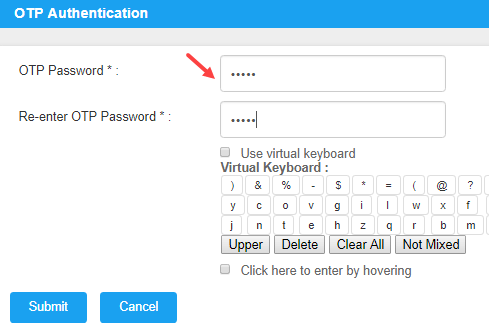 And finally set your transaction password. The password length should be 8-12 characters and contains upper, lower, alphanumeric and special characters.
Done! you have successfully generated your transaction password. Now you can access all banking services.
By following this process, you can generate or change your transaction password anytime using your Debit card.
FAQs
Q.1: How can I unlock my transaction password in Canara Bank?
Ans: Without transaction password, you can not use Canara net banking services. To enable transaction password first log in to your net banking and follow the above steps.
Q.2: How can I change my transaction password in Canara Bank?
Ans: You can also change your transaction password by clicking on the change passwords option in net banking.
Q.3: I'm unable to transfer money in Canara net banking, why?
Ans: Please generate a transaction password first then you can transfer money.