Bank of Baroda has just introduced WhatsApp Banking (free service) for all retail customers. Now you can check your account balance directly on WhatsApp by just saying "hi"
If you are not registered with mobile banking and net banking and looking best option to check your BOB account balance on your mobile phone then WhatsApp banking is for you.
This article provides a step-by-step guide on how to get the Bank of Baroda account balance on WhatsApp, a popular messaging app.
Get the Bank of Baroda Account Balance on WhatsApp – A Step-by-Step Guide
(1) The first step is to save the Bank of Baroda's official WhatsApp banking number on your phone.
Save this number: +91 84338 88777
(2) After saving this number, now open your WhatsApp and go to Bank of Baroda chat and say "Hi"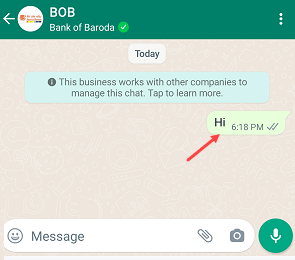 (3) Now select your language (Hindi, English or else) and send.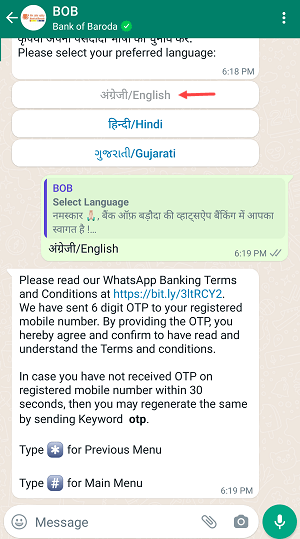 (4) You will get an OTP on your bank-registered mobile number enter the OTP and send as you can see in the below screenshot.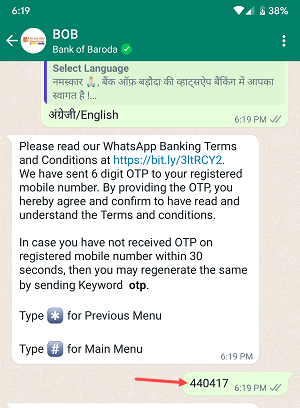 (5) Now tap on "Yes" and then WhatsApp banking will be activated for your bank account.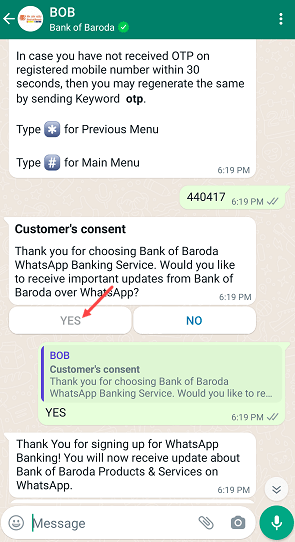 (6) Now to check your account balance, just tap on the "Account Balance" option.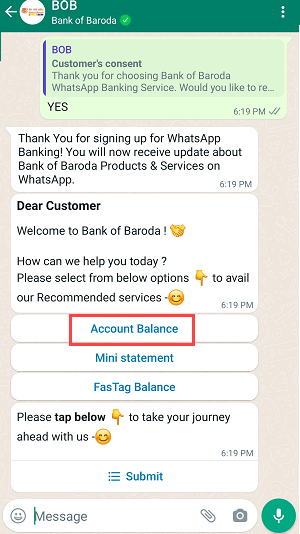 (7) Tap on the submit option to choose your account number.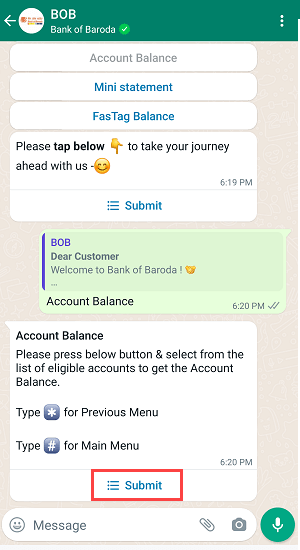 (8) Now select your account number and send.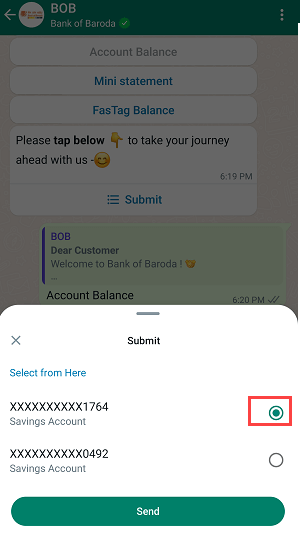 (9) After submitting your account number, you will receive your account balance instantly in reply.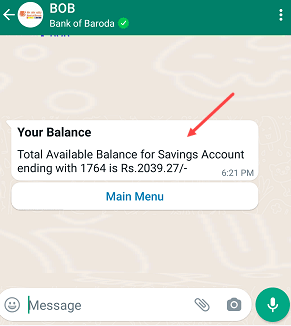 So this way you can now get your Bank of Baroda account balance on WhatsApp without login to net banking and mobile banking.
Whenever you want to check your BOB account balance:
Open WhatsApp
Say Hi
Select "Account Balance"
Tap on Submit and Select your Account number
And you will receive your balance in reply
Please note, your Bank of Baroda account and WhatsApp account registered mobile number should be the same, otherwise you cannot activate WhatsApp banking.
Hope this new digital banking feature will help you to know your account balance instantly. You can also use Missed call banking facility to know your account balance.