Google last month launched its Unified payment Interface (UPI) based application for digital payment named Google Tez.
At first I would like to say that this is a UPI application for digital payment and there is no wallet feature. Google is working hard to make this application better and so we will see wallet facility in future like Flipkart's Phone Pe.
Using Google Tez you can do Bank to Bank money transfer. That means you can send money to bank account within seconds.
Today I'm going to tell you – How to send money to any bank account on Google tez.
Google Tez – How to Send money to any Bank Account
Google Tez is UPI based payment application. UPI was launched by NPCI last year to attract people for digital transaction.
UPI (Unified payment interface) works same like IMPS, your money is credited to the beneficiary account within a second.
So let's send money to any bank account through Google Tez.
1 First of all you have to register on Google Tez, which requires a registered mobile number with your bank account, then you have to add your Bank Account. About registration process you can read this – How to register and add bank account on Google tez?
2 So you are successfully registered on Google tez and also added your bank account. So let's send money to beneficiary account.
To send money to any bank account on Google Tez, you have to tap on "Pay using phone or account number, QR or UPI ID".
3 Now on the next screen you can see the option of the account number in which you can see "Pay using an Account # + IFSC". You just require beneficiary account number and IFSC code.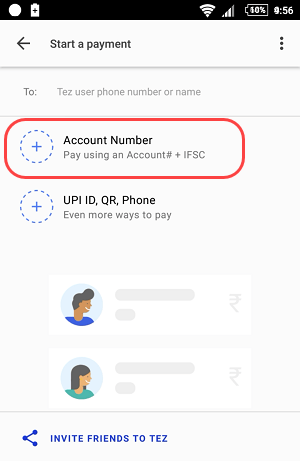 Tap on  Account number option.
4 Now you have to type beneficiary (Whom you are sending money to) name, account number and IFSC code. You can check IFSC code online.
5 Next screen enter the amount. You can send up to 1,00,000 INR to any bank account.
Enter Amount and click on Proceed to pay.
6 In the next screen you have to enter your UPI PIN. The UPI PIN is used for transaction authentication.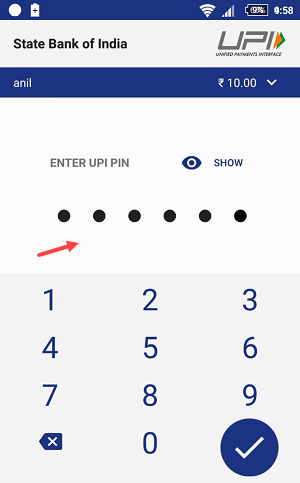 All done! you have successfully completed this transaction. Your money will be credited to the beneficiary account instantly.
You can also see the details of this transaction. The bank account that you have sent money will be saved in your Google tez account so you can view all transaction details and also you can do another transaction.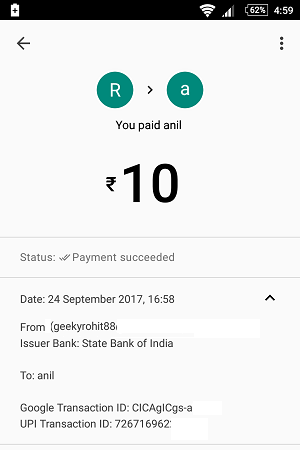 So in this way you can send Money to any Bank Account using Google Tez. If the person also registered on Google tez and near you then you can also use cash mode feature. You can also send money using person's UPI ID and mobile number.