HDFC Bank account holders can now complete full KYC for the PayZapp wallet using bank account details. Currently, only HDFC customers are able to complete KYC online and continue PayZapp all benefits. Other PayZapp users cant access PayZapp full benefit like transfer money to the bank, add money, etc.
If you are HDFC Bank customers and using PayZapp wallet then here we will guide you on how to complete KYC using your Bank account.
Many PayZappp users complaining that they have completed KYC before and now unable to use Payzapp wallet services. Let me tell you, it was limited KYC which was valid only for 12 months.
Now see how HDFC Bank account holders can complete Payzapp KYC online.
Complete PayZapp KYC using HDFC Bank Account
Before you start, please note "The mobile number linked with your HDFC Bank account should match with your Payzapp wallet mobile number. Both numbers should be the same.
Open your PayZapp wallet and go to Settings.
In Settings, tap and open View/Update KYC option.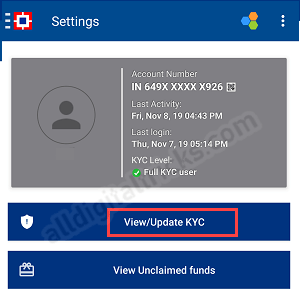 Now click on the Complete KYC button.
Next, it will ask "are you an HDFC Bank customer?" Tap on Yes.
Now you need to enter your HDFC Customer ID.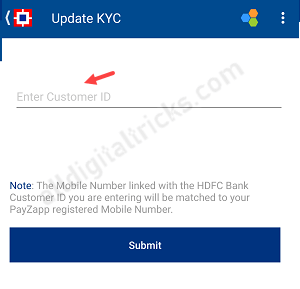 After entering your HDFC Bank customer ID, your Payzapp wallet will be linked with your bank account and your KYC will be completed.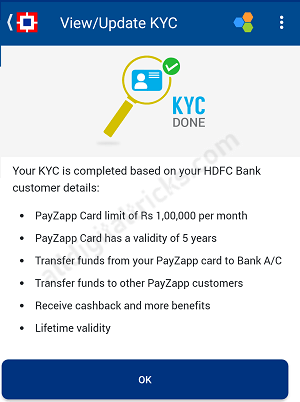 After completing your KYC, you can access Payzapp without any limit and get below benefits:
Your Payzapp card limit of rs.1,00,000 per month.
PayZapp Card has a validity of 5 years.
You can transfer funds from your Payzapp wallet to the Bank account.
Transfer funds to other Payzapp users
Receive Cashback and offers.
Lifetime validity of your account
Add Money to your wallet
FAQ
Q.1: I'm not an HDFC Bank customer, what I do?
Ans: Please contact customer care, they will assist you with this. Currently, only HDFC Bank customers can complete KYC.
Q.2: I have money on my Payzapp wallet and unable to transfer it to my bank account.
Ans: If you are HDFC Bank customers then complete KYC by following the above process, else you cant transfer money to the bank account. Please connect Payzapp CC.
Q.3: When KYC available for non-HDFC Bank customers?
Ans: Currently Non-HDFC Bank account holders cant complete KYC, please wait sometimes. We will update you on this.