If you are using the HDFC Debit Card EMI facility and purchased products on EMI through your Debit card then here we will tell you how to check your HDFC Debit card EMI loan statement.
As you know, HDFC bank offers EMI on Debit Card facility to selected customers and if you are eligible for this facility then you can also buy offline and online on EMI using your Debit card and pay installments from your saving account.
Now follow the below steps and check your HDFC Debit Card EMI loan statement.
Check HDFC Debit Card EMI Loan Statement
Step 1: First of all, make sure your email ID is registered with your bank account. The bank will send your EMI loan statement to your registered email address. If already registered then you will receive your statement PDF file every month.
Step 2: Open your email inbox and here you will find HDFC Debit Card EMI loan statement mail in your inbox. Just tap and open it.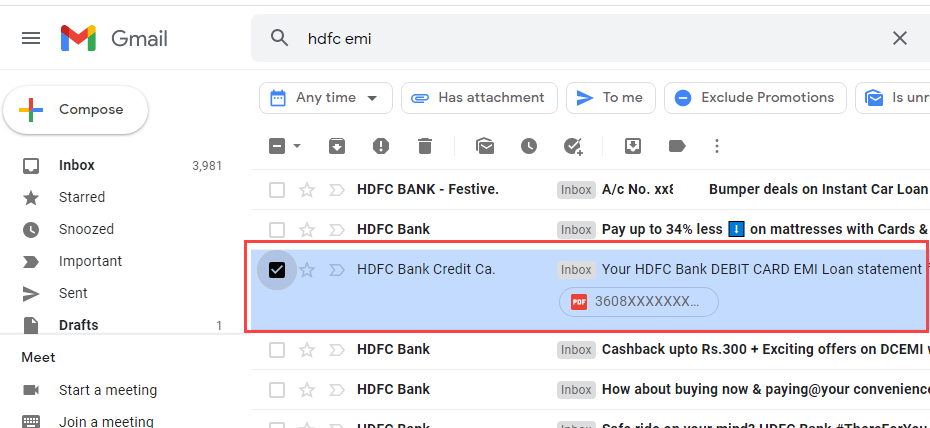 Step 3: Now you can open the statement PDF file and check your Debit card EMI loan details.
Frequently Asked Questions
(1) My email ID is not registered, how to receive my HDFC Debit card EMI loan statement?
Ans: There is no other way to get your account statement. The EMI monthly statement will be debited from your account every month. You can also check your saving account statement to know how many installments remaining.
(2) How to know how many installments completed?
Ans: You can check your paid installment detail in the statement file. Just open the statement file and check the transaction description. Here you can see tota paid installment details as you can see below screenshot.

You can also count your paid installment manually, just open net banking or mobile banking and download the statement.
(3) Can I receive my Loan EMI details by SMS?
Ans: No, you will get only an alert message on your registered mobile number to pay your installment. The EMI amount will be auto-debit from your savings account.