HDFC Bank is India's largest private sector lender by assets. It has more than 4,715 branches and 12,260 ATMs across 2,657 cities and towns.
You can open a regular saving account in HDFC with an Rs.10,000 deposit. In a regular saving account, you need to maintain 10,000 monthly average balance. You will get all banking benefits like debit card, net banking & mobile banking, cheque book, SMS banking.
Here we will tell you how to activate HDFC mobile banking so you can access and manage your account online on your smartphone. You can access many online banking services through Mobile Banking like check account balance and statement, open FD and RD account, change ATM PIN, order new Cheque book etc.
Activate HDFC Mobile Banking
HDFC mobile banking application available for the Android & iOS platforms. You just need to install this application and register for the first time. After registration, you can access your bank account.
Follow this step by step registration process:-
Before we start, make sure you have an active debit card and ATM PIN. If your debit card is new and not set pin yet then visit HDFC ATM and set your PIN.
1: First of all, install HDFC mobile banking for Android or iOS. Both available on play store and iOS store.
2: Now open the application and tap on Set UP QUICK ACCESS PIN
3: Next screen, enter your registered mobile number and customer ID and tap on continue.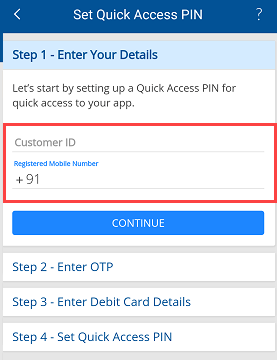 4: Next you need to One Time Password (OTP) received on your registered mobile number. Enter OTP and proceed further.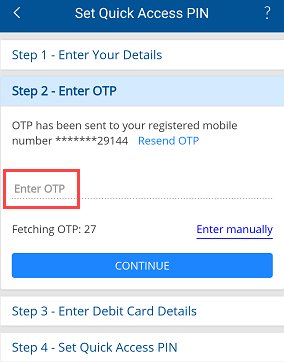 5: Now select your Debit card number, enter expiry date, and enter your 4 digit debit card ATM PIN.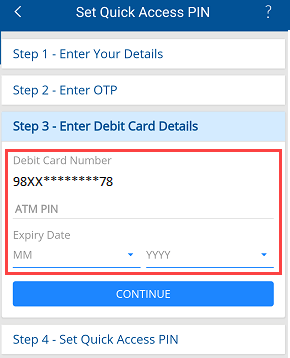 6: In the last step, set your 4-digit quick access PIN.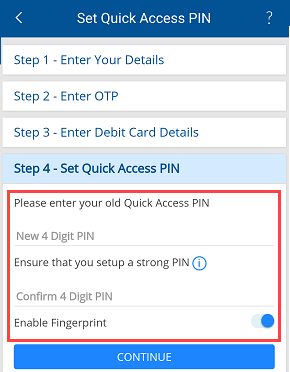 That's it. You have successfully activated HDFC mobile banking. Now open the application again and enter your 4-digit quick access PIN to login. So this is how you can activate HDFC mobile banking to access online banking services from your mobile phone.