How to activate Bandhan Bank mobile Banking (mBandhan) to manage your saving account online on smartphone. Today we will show you how to register for bandhan mobile banking application.
Bandhan Bank Ltd. is private sector bank,  headquartered in Kolkata, West Bengal. Bandhan, which started as a micro-finance company in 2001, received banking licence by Reserve Bank of India in 2014.  As of December 31, 2017, the bank had 887 branches and 430 ATMs.
You can open regular saving account at Rs.5000 initial deposit with all banking facilities like Cheuqe book, passbook, debit card, net banking and mobile banking.
With Bandhan Bank mobile banking you can access and manage your account on your phone. You can check account balance, make fund transfer, order cheque book, open fixed deposit, card blocking and more.
See step by step process  how to activate Bandhan Bank mobile banking facility.
How To Activate/Register Bandhan Bank Mobile Banking
Before you start, make sure your Debit card is active and have PIN. You will receive your Debit card PIN separately via post.
Please use your registered mobile number on your smartphone, you need to verify mobile number during registration process.
1: Install mBandhan Mobile banking application which available on Android & iOS.
2: Open mBandhan, enter your Customer ID or Account number. You can find both details on Cheque book and passbook. Now select Debit card option and tap on next. (To verify your mobile number, a message will be sent from registered number)
3: Now enter your Debit card details, enter Card number, PIN, expiry dare and Year & tap on next.
4: Next screen, set your Login PIN & Transaction PIN. Make sure both are different.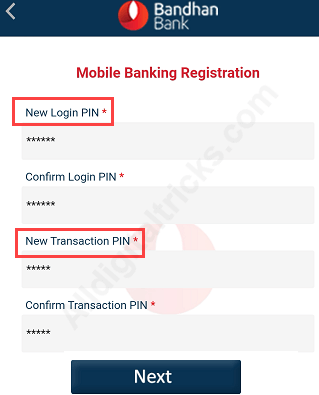 5: In last step, set 5 security question answer. Select your question and set preferred answer.
That's it you have activated Bandhan Bank mobile banking. Now you can login using Login PIN.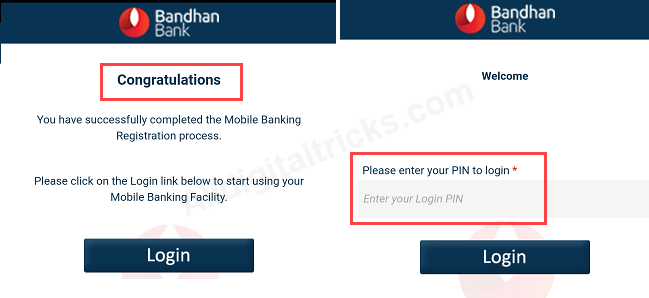 So this is how you can activate/register for Bandhan Bank mobile banking (mBandhan) facility.