ICICI Bank (Industrial Credit and Investment Corporation of India), it is third largest bank in India. The bank has a vast network of 4,850 branches and 14,404 ATMs in India, and has a presence in 19 countries including India.
You can open regular saving account online without visiting any branch. ICICI Bank also offers zero balance saving account under Jan-dhan yojna.
In this post we will tell you how to activate or register for ICICI Bank net banking facility online without visiting branch.
With ICICI net banking facility, you can manage your bank account online on PC or smartphone. Through net banking, You can transfer money online, view account balance & statement, manage debit cards, order new cheque book, change account details like pan card, address, change branch and much more.
So follow below step by step process and activate Internet Banking for your ICICI saving account.
How To Activate/Register for ICICI Net Banking Online
For net banking activation, you just need User ID which printed on your passbook or you can get your User ID on registered mobile number via SMS simply follow this process: How to get ICICI User ID on registered Mobile number
You can also request for your User ID by speaking to Customer Care. Authenticate yourself on the IVR by entering the 16-digit Debit Card number and 4-digit ATM PIN
Now follow this process:-
1: First visit ICICI Net Banking login page and click on Get password as you can see below screenshot.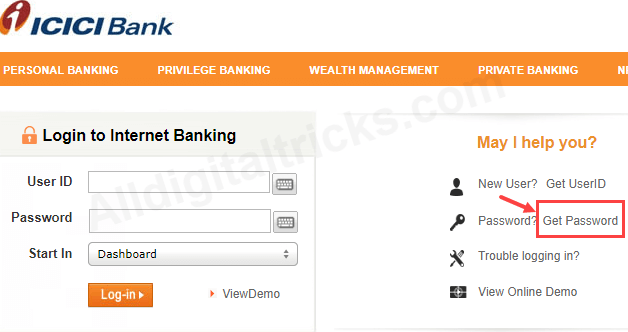 2: On next page click on Click here to Proceed.
3: Now enter your User ID and click on Go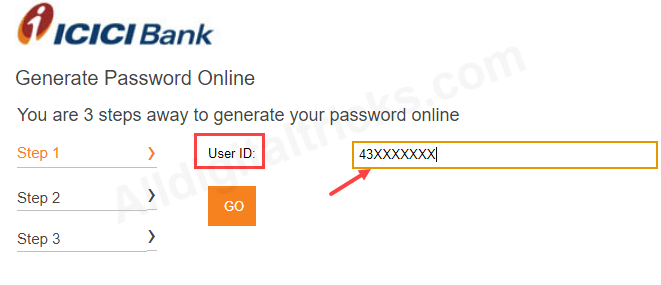 4: Now type your registered mobile number & click on Go. (You can change or update your registered mobile number at any ICICI ATM)

5: Now in next step you will receive Unique reference number (URN) on your registered mobile number. Enter URN number and click on Go.
6: And in final step, set your net banking login password. Set strong login password and click on Go.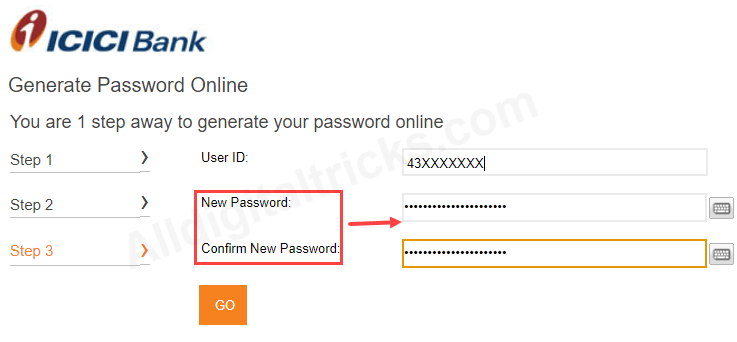 Done! your ICICI net banking facility now activated and you can login to your account and manage account online.
So this is how ICICI customers can activate or register for net banking facility online without visiting branch.