Kotak Bank customers can calculate Fixed deposit online and find out how much you earn through Kotak FD, identifying the maturity amount and interest earned on your deposit.
Before investing your money in FD, it is a good idea to calculate FD and know how much benefit you will receive.
Kotak Mahindra Bank provides FD calculator online facility to customers, so you can calculate your FD before open FD account.
How to Calculate Kotak Bank FD Before investment
Open Kotak Bank FD calculator: https://www.kotak.com/en/calculators/
Type of customer: Select Normal OR Senior citizen
Type of Fixed Deposit: You can select Cumulative (Interest paid on maturity with full amount), Quarterly Payout ( Interest paid on quarterly every three months), Monthly payout (Interest paid every month)
Enter Amount of Deposit
Select tenure (maximum 10 YRS)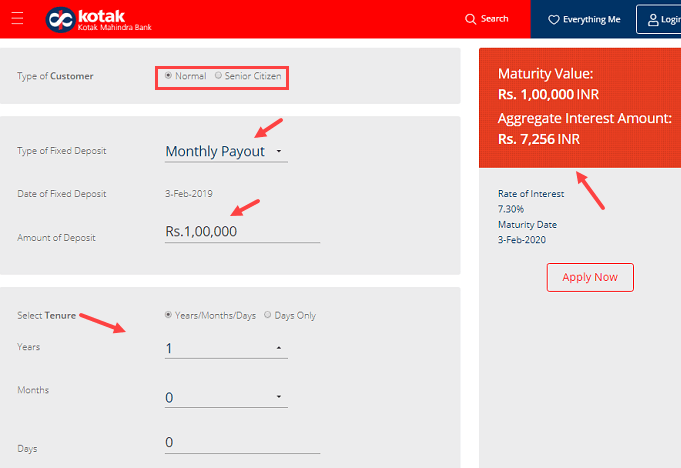 After entering all these details, you can see maturity value and aggregate interest amount, the rate of interest and maturity date.
You can check different applicable interest rate by entering different tenure details and find out which tenure gives you more interest.
FAQ
1: What is cumulative?
When you select the cumulative option in FD, interest is compounded every quarter or year and paid at the time of maturity.
2: What is Quarterly Payout?
In Quarterly payout, interest amount will be paid Quarterly means 4 times each year.
3: What is Monthly payout?
If you want to receive the Interest amount every month in your saving account then you choose monthly payout. The Interest amount will be credited every month in your saving account.
4: Can I open FD in Kotak online?
So this is how Kotak Bank customers can calculate fixed deposit online and know Interest rate before opening FD account.