Don't know which mobile number is registered with your UCO Bank account? Well, you can check online which mobile number currently linked with your saving account.
UCO Bank, formerly United Commercial Bank, established in 1943 in Kolkata, is a major government-owned commercial bank of India. You can open saving account here with just 1000 initial deposit with all banking facility. Now UCO Bank online account opening facility also available.
By registering mobile number with your UCO bank account, you will be able to receive account transactions alerts, OTP and also check account balance and mini statement through the missed call.
If you don't know your registered mobile number which linked with your UCO Bank account then follow these 2 online methods to view your registered mobile number.
1# Check UCO Bank Registered Mobile Number Through Mobile Banking
If you are not registered for UCO Bank mobile banking facility then read this: Activate UCO Bank Mobile Banking
You can view your registered mobile number through mobile banking, see how:
1: Login to UCO Mobile Banking by entering login PIN.
2: After login, tap on User Profile and next screen you can see your current registered mobile number as you can see below screenshot.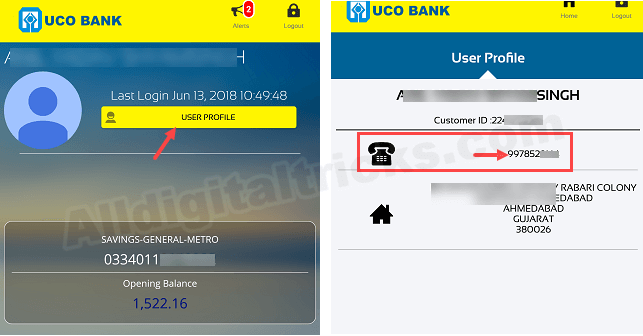 2# Know UCO Bank registered mobile number Mpassbook
UCO Bank customers can also find the registered mobile number on UCO mPassbook.
mPassbook Application is digital passbook which you can install on your phone and check account transactions activity.
To check your registered mobile number:
1: Login to UCO mPassbook Application.
2: Now tap on User Profile option. Next screen you can view your registered mobile number.
So by following these two methods UCO Bank customers can check which mobile number currently registered with their bank account. You can update your mobile number by visiting your branch, currently no online facility available to change the mobile number.