Do you have a complaint with SBI (State Bank of India) regarding your account? You can file your complaint online and your problem will be resolved within 7 days.
State Bank of India is the largest and most reputable bank in the country. The largest bank, it is obvious that most customers are also from this bank. From all the upper and middle class to the poorer , all holding a savings accounts in the State Bank of India.
Many times, if we have any problems related to our account, then we go straight to the bank branch, but most people have to face many problems to resolve their issue.
But if you have internet knowledge and use internet in your daily life then such small problems can solve at your home.
State Bank Of India customers can register their complaint online. If you have any problem related to the account, you can tell it online. Your complaint will resolved within 7 days after submit online.
Let's see how to complaint online in State Bank of India?
How to Complaint Online in State Bank of India
SBI has launched a Complaint Portal to enable SBI customers to raise their complaint online. That is:
https://cms.onlinesbi.com/CMS/
To register your complaint, you have to go to this portal first.
You have to add your account details and write about your problem in 500 words by selecting your query from the categories.
See how:
Account Number: Type your account number
Name of complainant: Type your full name
Mobile Number: Enter your registered mobile number
Email: Type email address
Category of Complaints: Here you can see different types of categories from which you have to choose a category related to your complaint.
Products & Services: After selecting Category, you have to choose your option in Products & Services.
Nature of Complaint: After selecting Product & Service, please select your option in Nature of complaint.
Brief details of complaint: Now write brief detail about your problem within 500 words.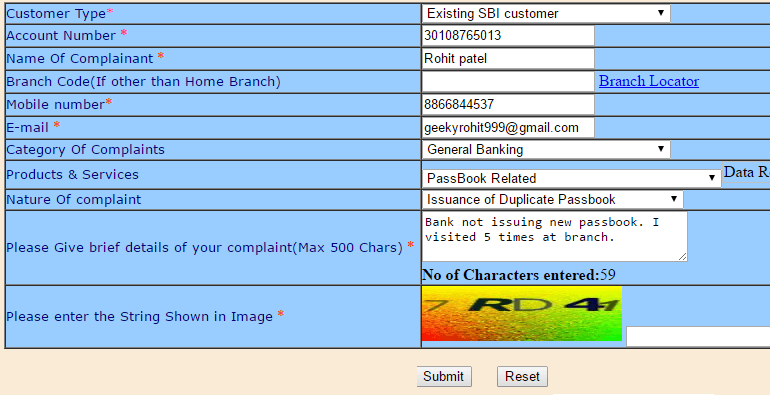 Just after filling all these details, you have to submit your complaint.
After successfully submitting your query, you will get a Ticket Number through which you can know Status.
Your complaint will be investigated and resolved within 7 days. You will also get a message about what action they have taken on your complaint.
So in this way, you can complain online in State Bank of India and get a proper resolution. You do not need to go to the branch for this.
Related Articles: