Disable PNB Net banking | Deactivate PNB Internet Banking | Block PNB net banking | PNB Net Banking Deactivation
Do you want to disable PNB net banking for security reasons? Well, you can block the net banking facility online.
Punjab National Bank net banking facility available for all customers without any charge. Bank customers can access and manage their bank account online and access many online services without bank visit.
If you are PNB customer and want to deactivate PNB net banking then follow below steps:
Disable PNB Net Banking Online
Step 1: Open PNB login page and click on Disable Internet Banking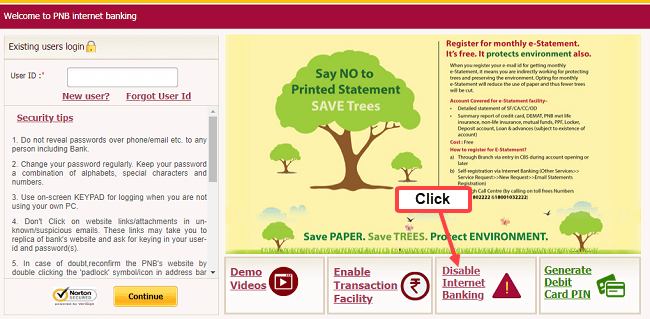 Step 2: On the next screen, enter your User ID and Date of Birth or Pan number and click on verify.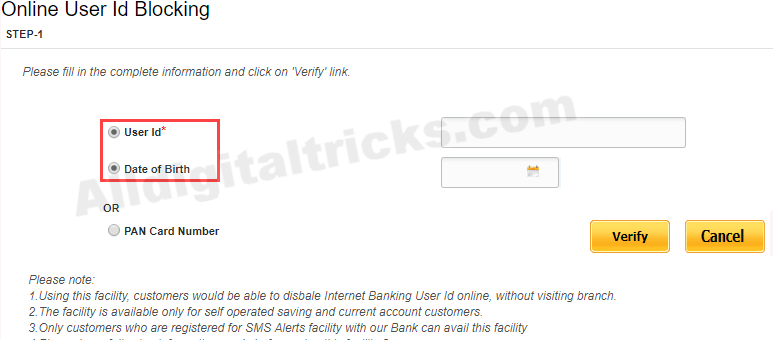 Step 3: Next screen, enter One Time Password (OTP) received on your registered mobile number.
Step 4: Now verify your details, accept terms and conditions and click on Verify button.

Done your PNB net banking blocked successfully. Now you can not log in to your net banking account.

SMS Based Net banking Blocking Facility
You can also send an SMS from your registered mobile number to block net banking facility.
Type "BLOCK IBS" and send to 92640 92640 or 5607040 
How to enable again?
If you blocked your net banking by mistake then don't worry if you want to reactivate your net banking then use Forgot password option after 24 hours. Just enter your User id, enter OTP and verify yourself using Debit card. After that set your new login password.
So this is how to block PNB internet banking facility when you don't want to use it or want to block for security reasons.