How to get Reliance JIO Prime membership for free till 2019: Reliance Jio prime users can now get extra 1 year free prime membership benefit absolutely free of cost.
The Prime subscription was announced in February, 2017. Priced at Rs. 99 for the whole year, the service provides users additional data at the same prices compared to non-Prime members. Initially, it was an opt-in service, however, the membership fee was later automatically added to the recharge cost when a user tried to purchase a pack. In a way, Jio membership is effectively mandatory for users.
Existing Reliance Jio Prime subscribers can extend their membership for another 12 months (till 2019) without  paying the subscription fee of Rs.99. The facility is available for a limited period of time for Jio users so hurry.
However, new Jio users who go for Prime membership after April 1, 2018 will have to pay Rs 99.
See step by step process to get free Prime membership for another year:-
How To Get Jio Prime MemberShip Free (Extend Till 2019)
`1: Download & install Myjio Application and register your  number.
2: Open MyJio application, you can see notification – "Congratulations! extend Jio Prime for a year free", tap on Get Now.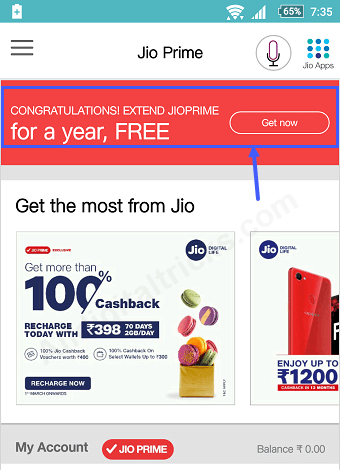 3: In next screen, tap on Proceed.
Done! you have successfully extended Jio prime membership for another year.
Jio Prime along with a 12-months validity recharge comes with a host of benefits which include unlimited benefits of free voice (Local, STD, Roaming to any operator, anywhere in India), SMS and 4G data which Jio users were currently using till 31 March 2018.
So this is how you can extend your Jio Prime membership for another year free of cost. This offer is for limited period so hurry.