If you are in the mood to make some fun with your friends on Twitter, then I am going to tell you a trick in which you can make fake tweet of any Twitter user, even those who have Blue Tick.
MicroBlogging site twitter is the most popular social media site like Facebook, where millions of tweets are made everyday.
If you are a Twitter user too, then I'm sure you will love this trick.
Make fake tweet of any Twitter user
You have seen many people doing such fake tweet post in twitter. Actually its very easy to do this using inspect element tool which available in PC Browser.
What is Inspect Tools?
Inspect tool is used to edit web pages and see live changes. You can customize any web page. This change will only be visible in your browser, as soon as you close the inspect tool and refresh the web page, the changes will be removed.
Web developers using this tool to design website.
So let's use this tool and make fake tweet.
First of all, open the profile of the Twitter user whose fake tweet you want to create.
Now Right-click on any Tweet text message and click on Inspect (chrome browser).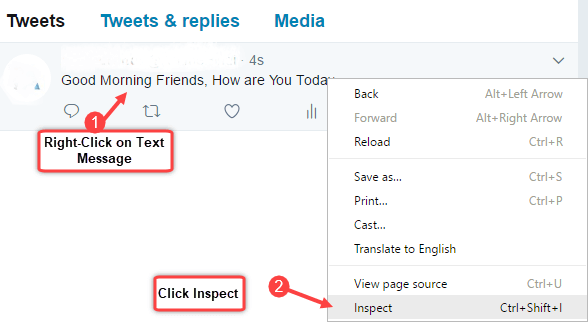 Now at right side you can see inspect tool.
Here you can see that text message, just click on it and edit it with your message.
Type your text message and hit enter or click anywhere.
Done! now you can see the original tweet message replaced with your message.
Now take screenshot of this tweet, press Ctrl+prntScr, then open MsPaint and paste.
This trick work for all profile, you can make fake tweet of blue tick users also.
So in this way you can make any user's fake tweet on Twitter. Use this trick for fun only.