Do you wish to remove your Bank account from Google Pay? If you don't want to use Google pay anymore and want to delete your bank account then here we will tell you the step by step process on how to remove your account from Gpay.
You can add multiple bank accounts in Google Pay and use them to pay online, transfer money, and bill payments. However, if you wish to remove all bank accounts or a single bank account from your google pay application then here the process:
Delete Bank Account from Google Pay
Step 1: Open the Google Pay application and open the Profile section by clicking on the Profile icon as you can see below screenshot.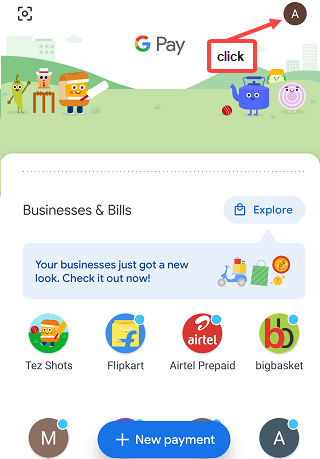 Step 2: In the Profile section, you can see Bank Accounts and Cards section where you can view all added bank accounts list, tap, and open it.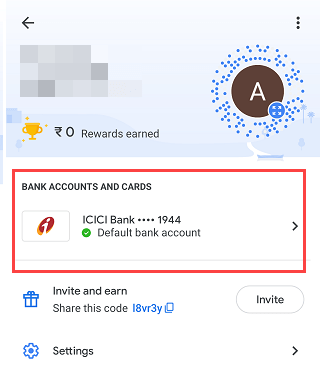 Step 3: Now click on the bank account which you want to remove.
Step 4: Next screen, tap on three-dot and open options, click on "Remove account" option as you can see below screenshot.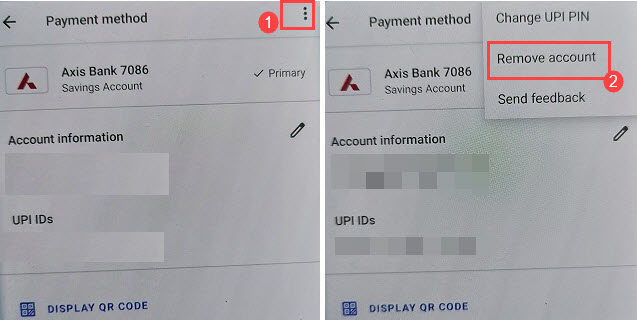 Step 5: And finally, click on Continue and proceed to remove the bank account.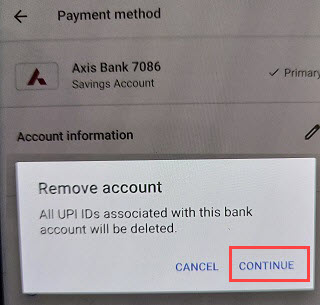 Done! your selected bank account will be removed from Google Pay and all associated UPI IDs will be deleted. After removing the bank account from Google Pay, you can not use linked UPI ID to receive money, it will be deleted.
Please note, after removing your bank account, you can again add it to your Google Pay, and this time you don't need to set UPI PIN because it's already created by you. You can use the previous UPI PIN and no need to set UPI PIN using a Debit card.
FAQs
(1) How to permanently delete my bank account from Google Pay?
Ans: You just need to open the added bank account list and select the bank account to remove it. The Bank account will be removed including linked UPI IDs. However, you can add the same bank account again without a debit card.
(2) Why my UPI PIN not deleted?
Ans: Once, you set UPI PIN using your Debit card, you can use this UPI PIN with any UPI application. So you need to set UPI PIN only one time. You can reset or change it anytime.