Starting from February 1, 2019, all Airtel DTH subscribers have to change their DTH plan according to new TRAI guidelines.
If you are Airtel DTH customer then here we will tell you how to subscribe new Airtel DTH plan. You can select channels of your choice in Airtel DTH and create your own plan. Airtel DTH also offers recommended packs exclusively for your account.
Depend on your choice, you can choose channels in Airtel DTH and create your own pack,  OR choose Airtel recommended packs.
Follow below guide and select your new DTH pack in Airtel DTH.
How to Subscribe New Channels Pack in Airtel DTH
Visit Airtel self-care website and log in to your account, if you are not registered, kindly register first: https://www.airtel.in/
Enter your DTH customer ID/mobile number and log in using a password or OTP.
After login, click on Digital TV and then click on Connections. Now you can see Upgrade Now notification. Click on Upgrade Now.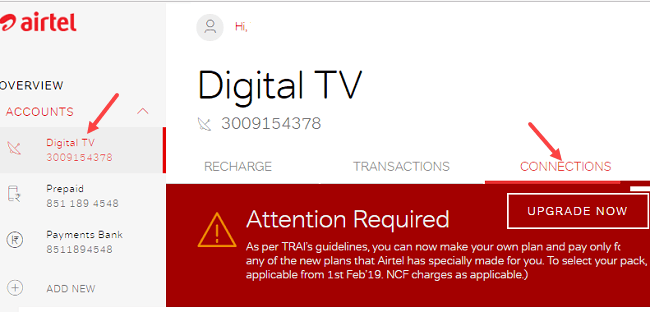 In the change plan screen, you can select Airtel recommended packs and subscribe to these packs.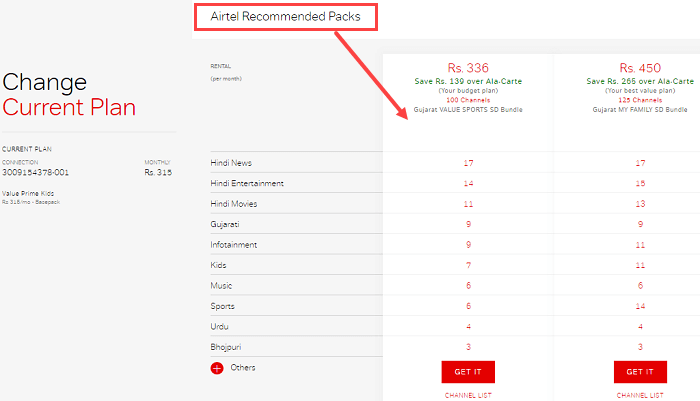 The second option is Broadcaster Bouquet where you can select different channels packs like Sony, Zee family pack, Colours wala value pack, Start plus. You can see Channel packs price and channel list. Select your packs and click continue.
In Ala-carte where you can select single channels of your choice and create your own pack. Select your favorite channels and create your pack and click on continue.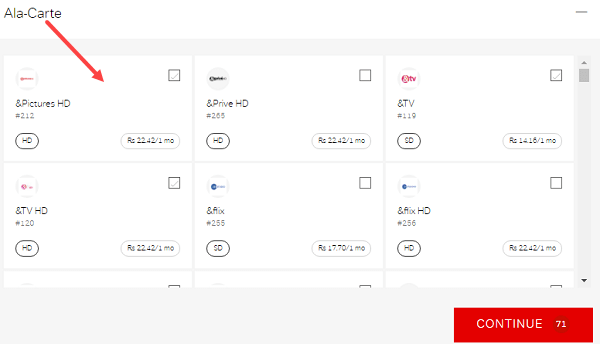 You can choose any channels bundle packs and also choose a single channel from Ala-carte.
After selecting your channels in Airtel DTH, now confirm your request.
Congrats, your new Airtel DTH pack is now active.
So this is how to subscribe for new Channels pack in Airtel DTH. You can choose Airtel recommended packs if your customized packs price is high.
FAQ
Q.1- I want to activate Zee family pack for my Airtel DTH, how?
Just select Zee family pack from Broadcaster Bouquet and confirm your pack.
Q.2- Can I select single channels and create my own pack.
Yes, you can also choose a single channel and create your own pack in Ala-carte. For example, if you only watch Aajtak, Astha and Zee tv then select all these three channels in Ala-carte and confirm your pack.
Q.3 – What is the fixed charge according to new TRAI rules for Airtel DTH.
You need to Pay Rs.130 per month fixed charge for Airtel DTH, even if you don't subscribe to any packs and channels.  You will be able to view all free to air channels.