India's largest bank public sector bank State Bank of India (SBI) has introduced mPassbook facility for its customers. This is digital passbook which you can view on your smartphone.
In this world of digital age, now you can do all banking related work at home using PC/smartphone. You do not have to visit bank again n again.
M-Passbook or mobile Passbook is yet another innovative offering through State Bank of India. This is an electronic passbook, which can be used for storing and recording your transaction account activities. Transactions can be synced/ updated manually into your m-Passbook at any time of the day after logging into State Bank Anywhere. Once updated, you would be able to see your transactions in your m-passbook, stored in your device. This is an added convenience to viewing and monitoring your transactions history, without contacting Banks system/server every time for retrieving transactions.
See how SBI customers can use mPassbook facility on his/her smartphone.
How To Use SBI mPassbook Facility
SBI Anywhere (Personal) is complete mobile banking application. This application is available for Android,iOS and windows phone.  To use SBI Anywhere personal you just need SBI net banking facility. Read: How to activate SBI net banking online?
To use mPassbook first of all login with your net banking user ID and password.
1: After logging in, tap on My Accounts tab and then tap on mPassbook
2: Next screen you need to set PIN. Tap on Generate/Reset PIN and set your 4-digit PIN.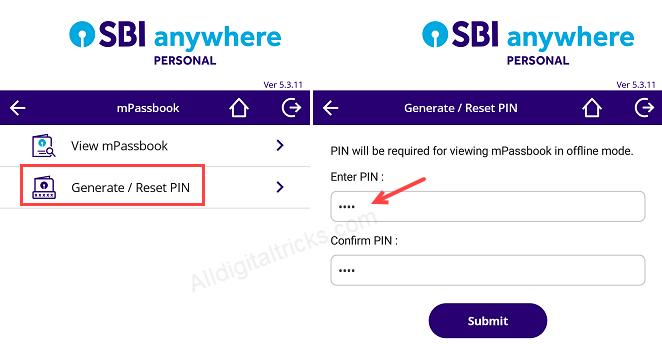 3: Now you can view mPassbook, simply tap on View m-Passbook.
4: Next screen select your account number.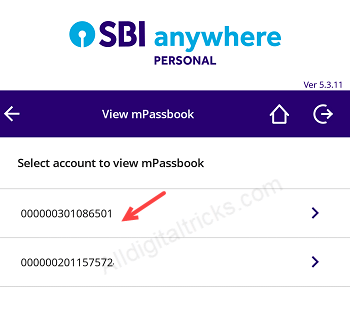 5: Now you can see your digital passbook. Tap on synchronize button to load more previous transaction details.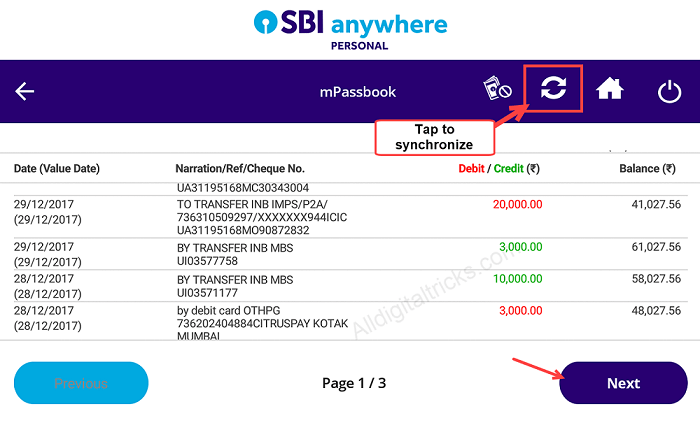 View mPassbook Offline
M-passbook Offline is a newly introduced feature in State Bank Anywhere, whereby users can view their m-Passbook transactions, offline, without the need for any network connectivity. All the m-Passbooks would be available to users (till they are synced) without the need to login into internet banking. To view m-Passbook offline, user need to enter his/her internet banking "Username" and "M-Passbook PIN".
Open SBI Anywhere and tap on More.
Next you can see m-Passbook, tap on it.
Now type your user ID and PIN to login.
In next screen you can see passbook.
So this way you can use SBI mPassbook facility to view your transaction details online. No need to visit bank to print your physical passbook.