Do you want to view your Indian Bank account complete transaction history? If yes, then Indian Bank net banking Quick transaction view lets you check your account full transaction history online.
Indian Bank customers can also check account transaction details through an email statement or download the three-month statement PDF file. Indian Bank mPassbook is another option to view your passbook online and mini statement facility is also available to get transaction details trough missed call.
However, if you want to know your Indian Bank account full transaction details then you can log in to Indian bank net banking and open Quick transaction view option where you can see detailed account transaction history.
How To Check Indian bank Full Transaction history
Login to Indian Bank Internet Banking.
Now click on My Accounts – Accounts – Quick Transaction View.
Now you can view your Indian bank account complete transaction history. Click on the Next button & view more to view previous transaction details. You can also take the print out or save as a PDF file.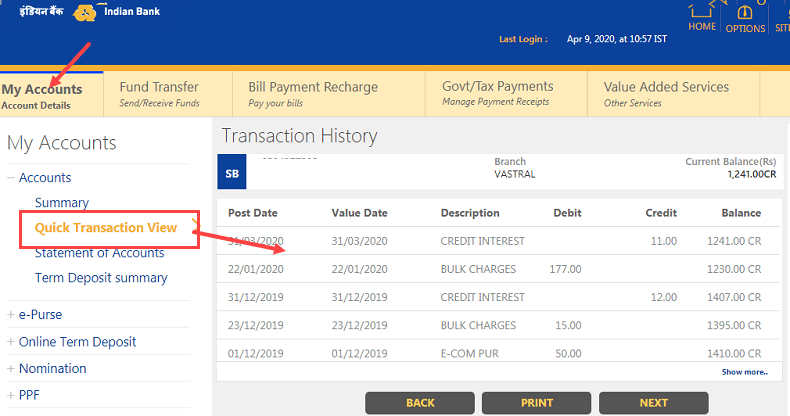 FAQs
Q.1: Is there any option available to know full transaction details of my Indian Bank account?
Ans: If you have Indian Bank net banking then you can open Quick transaction view option to know full transaction details. You can also use Indian Bank mPassbook to view complete transaction details.
Q.2: How to view the last one or two-year Indian bank statement online?
Ans: Please login to Indian Internet banking and click on Accounts – Quick transaction view. Here you can view your account last two or three-year statement. Indian Bank also offers a digital mPassbook facility to check the account statement on your mobile phone. Please install Indian bank mobile banking to view mPassbook.
Q.3: Can I check my account transaction details without online banking?
Ans: If you don't have online banking (net banking or mobile banking) then you can only check mini statement by calling toll-free number.