ICICI Bank customers can now withdraw cash without ATM card from any ICICI ATM machine. Yes, the bank has launched a cardless cash withdrawal facility for all retail customers to withdraw money without insetting ATM – Debit card.
You can now withdraw cash up to INR 20,000 from any nearest ICICI ATM without using your ATM/Debit card. You just need to request a cardless cash withdrawal from ICICI Mobile banking and visit the nearest ICICI ATM.
ICICI Cardless Cash Withdrawal from ICICI ATM
Cardless Cash Withdrawl – Self-service, a simple and safe mode to withdraw cash from ICICI Bank ATM without inserting ATM/Debit card.
Step 1:
1# Login to ICICI iMobile Banking app and select Services.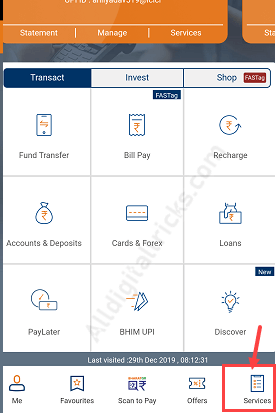 2# In Services, tap on Cardless cash withdrawal (self) option.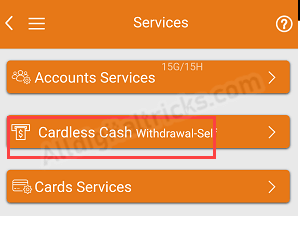 3# Now enter amount, select Debit account number and set a 4-digit temporary PIN.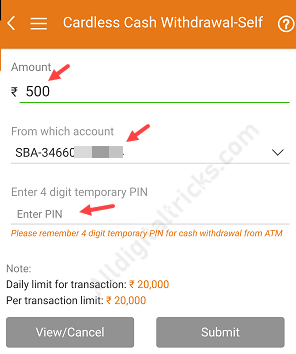 4# Next screen confirm your request and you are done!
Now you will receive a 6-digit reference code (SMS) on your registered mobile number with Bank.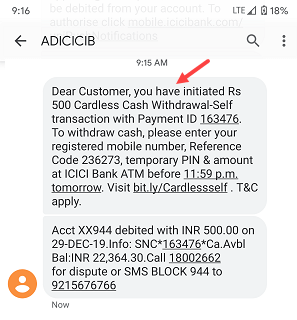 Step 2:
Visit ICICI Bank ATM and select the "Cardless Cash Withdrawal-self" option.
Enter your registered mobile number, 4-digit temporary PIN (set by you while initiating transaction)and 6 digit reference code (received as an SMS from Bank), exact withdrawal amount and submit.
Cash will be dispensed on successful authentication of all the parameters. The entire amount will be dispensed as a one-time transaction.
If there is any mismatch in the details, the cardless cash withdrawal-self transaction will be blocked after 3 unsuccessful attempts and the amount will be returned to your account.
Limit:
Daily limit for the transaction: INR 20,000
Per transaction limit INR 20,000
Validity:
How To Cancel this transaction
To cancel a cardless cash withdrawal-self transaction, please click on the "View/Cancel" button. Once the transaction has been canceled, the amount will be credited to the account immediately.
ICICI cardless cash withdrawal facility really very helpful when you need urgent some cash and don't have a Debit card at that time. Just request cardless cash withdrawal using mobile banking and withdraw cash without using your ATM/Debit card.