ICICI Debit card EMI now available on Flipkart. If you have ICICI Bank Debit card and you are eligible for EMI ON Debit Card then you can buy any product from Flipkart on EMI using the Debit card.
After purchasing the product from Flipkart using Debit card EMI, the EMI amount will be debited every month from your ICICI account. When you place an order, no Minimum balance required in your saving account and there is no amount blocked on your account.
You just need to Pay EMI per month for selected  EMI Plan which will be automatically Debited from your account.
How To Know ICICI Debit Card EMI Eligibility on Flipkart
To check your eligibility for your ICICI Debit card on Flipkart, just open Product page on Application and check Easy Payment Options. Here you can see Debit EMI available. Tap on view details.
And next screen you can see ICICI Bank Debit Card EMI plans. That means you are eligible for ICICI Debit card EMI.
Please note: Your Bank registered mobile number and Flipkart account registered mobile number should be the same.
How To Buy Product using ICICI Debit Card EMI
Select your product which you want to buy above 8000 and open Payment screen. Select EMI (Easy Installments)
Next screen, select ICICI Bank Debit Card EMI.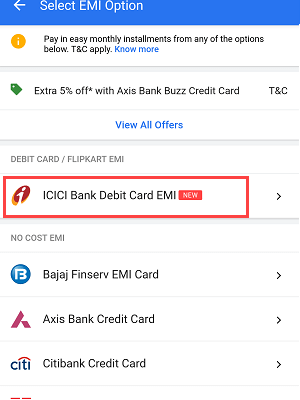 And now select your EMI plan (3, 6, 9 or 12 months).
Finally, enter your Debit Card number, expiry date, and CVV and complete the process.
Ok done! your order will be successfully placed after entering Debit card details.
Now first EMI will be charged on your ICICI Bank Account starting from next month. The EMI amount will be Debited automatically from your ICICI account so make sure you have enough balance in your account.
Please note, ICICI Debit Card EMI available only for eligible customers. If you are not eligible then you can not buy any product from Flipkart using EMI on ICICI Debit Card.