How To Activate/Register for ICICI iMobile banking: If you ask me which is your most favorite mobile banking application, then i must say it is ICICI iMobile Application. Yes this App is fast, secure, reliable and you can do all banking related work with iMobile.
I used many banking Application but never experienced like iMobile. It's development is top level and very easy to understand.
Let's see some main features of iMobile
ADD/manage beneficiary
IMPS/NEFT fund transfer
Recharge mobile, DTH & pay bills
UPI payment (yes now built-in UPI support)
Check balance, view statement
Card Block/Unblock
Generate/change card PIN
Account transfer to any branch
Update address, email, PAN details
Request new cheque book, stop cheque payment
Smart Keys feature let's you fund transfer without open App
These are main features available on iMobile.
Today i will guide you how to Activate (register) first time with iMobile Application.
ICICI iMobile Application Activation Process
Before we start, make sure you register your mobile number with your ICICI account, if mobile number is not registered then you can't access iMobile.
You can change or register your Mobile number at any ICICI ATM.
Step 1: First install iMobile on your smartphone. iMobile available for Android, iOS, windows Phone. Download and install it.
Step 2: After installing, now open the iMobile.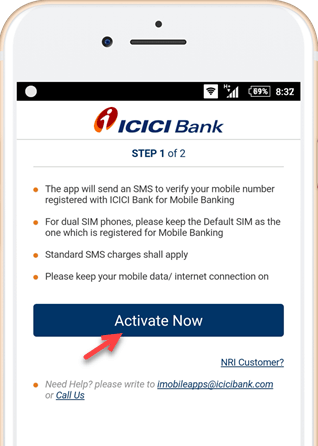 In first screen you can see Activate Now, just tap on it.
When you tap on Activate now, verification message will automatically sent from your registered mobile number, make sure you have at least Rs.2 balance.
Step 3: After successful verification next screen you have two option to login iMobile Application.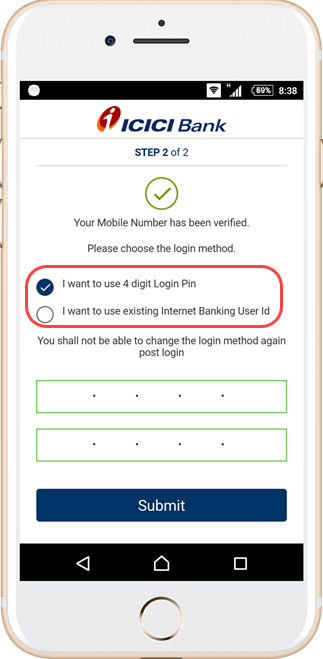 4-digit login PIN
Netbanking user id & password
Here i recommend select " I want to use4 digit login PIN" option for fast login process. If you select Netbanking userID and password then you have to enter user ID and password every time to login.
So select 4-digit PIN option.
Set your 4 digit PIN and Submit.
After submitting 4 digit login pin you can see "you are one step away from using imobile…." message on screen. Tap on OK.
Step 4: Now login to iMobile. Enter your 4 digit pin and login.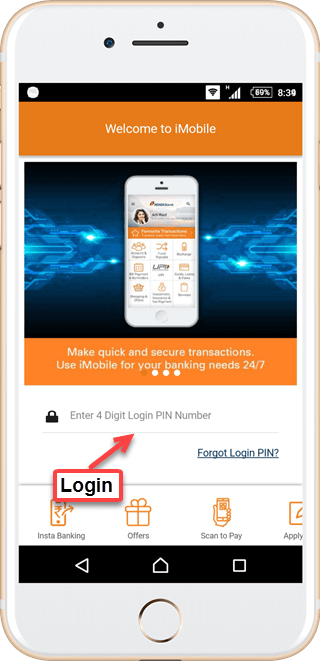 5 Now this is last step, you need to authenticate your account with Debit card grid numbers.
You can see alphabet (A..N..D..) whatever, see your debit card backside and add those grid numbers here according alphabet provided you for authentication.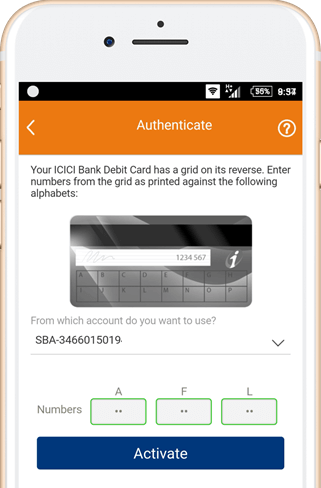 Now tap on submit.
Good job! you are now successfully registered with iMobile and ready to use.
So this is the simple process to register first time with ICICI imobile application. If you are facing any issue while verifying your phone number make sure you are not registered with Pocket wallet Application.