ICICI Bank has launched WhatsApp Banking service, so now you can access different banking services on your WhatsApp like balance and transaction details, Debit card block/unblock, credit card limit related services and many more.
You just need to save ICICI WhatsApp Banking number on your phone and access banking services from ICICI official WhatsApp number.
How to Use ICICI WhatsApp Banking
You just need to save this number on your phone:
For English:  9324953001
For Hindi: 9324953010
Now open WhatsApp application on your phone refresh contacts. You can see ICICI Bank in the list.
Now you can send an SMS to avail of different services.
Type "Hi" and you can see all available services, you just need you enter a particular service option (for example, type 1 for banking services) You can also type and send Bold character keywords to get banking services.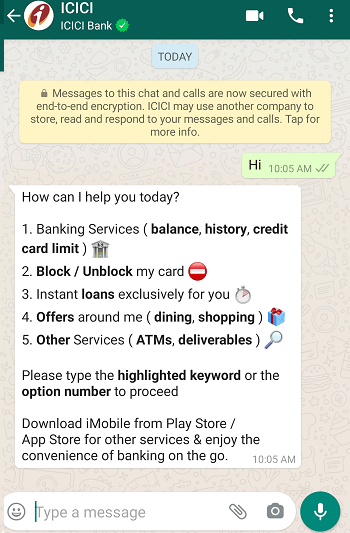 Type & send "Bal" to know account balance
You can now easily check your ICICI account balance on WhatsApp. Just type "bal" and send it. You will get your account balance instantly.
Send "history" to know your last 3 transactions details
You can also know your last 3 transaction history by sending "history" keyword on Whatsapp.
Type & send "Block" or "unblock" to block/unblock your Debit card
Now you can block/unlock your ATM Debit card on WhatsApp
To block your Debit card just send "block" and then choose your Debit card and submit.
You can also unblock your Debit card, just send "unblock"
FAQs
Q.1: ICICI WhatsApp Banking is free service?
Ans: Yes, it is a free service. There are no service charges for using this service.
Q.2: Why I'm unable to use ICICI WhatsApp Banking?
Ans: Make sure your ICICI Bank registered mobile number is used for WhatsApp banking. If you are registered on WhatsApp with a different number then you can not ICICI WhatsApp Banking.