If you are unable to check your Central Bank of India CIF number (also called Customer ID) then here we will tell you the fastest way to know your CIF number online.
What is the Meaning of Central Bank of India CIF Number?
Central Bank of India (CBI) number is a special code that banks use to identify their customers and keep track of their accounts. CIF stands for Customer Information File, and it is a digital file that stores all the important information about a customer, such as their personal details, account types, transactions, loans, KYC documents, and so on.
Your CBI account CIF number is usually 10 digits long, and it is unique for each customer. A CIF number helps banks to provide better and faster services to their customers, as well as to prevent fraud and errors. A CIF number is not printed on the ATM card, but it can be found on the passbook, cheque book, e-statement, or online banking portal of the customer.
Many Central Bank of India customers are still unable to find their CIF number so here we will tell you one easy online method to get your number instantly.
Central Bank of India CIF Number: Check Online Now!
(1) The Central Bank of India has introduced an official WhatsApp care number to connect with live agents. First, save this number in your contact list (+91 63648 61866)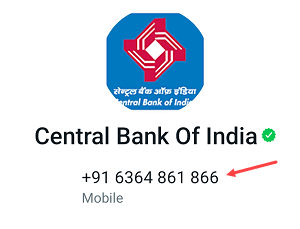 (2) In the next step, open your WhatsApp and open the saved Central Bank of India WhatsApp number chat box. You need to refresh your contact to view it.
Once you open the chat with the Central Bank of India, Say "Hi" and then choose the "Existing Customer" option.
(3) Once you select and submit the "Existing Customer" option, the customer care agent will connect with you shortly, it takes 5-6 minutes maximum. Once the customer care person is live, you can ask for your CIF number.
(4) Now the person will verify your identity. The person asks for your bank account number and your name for verification. Submit your account number and full name.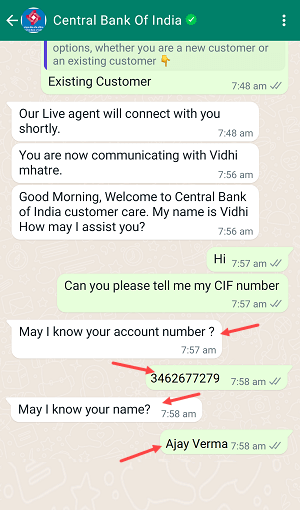 (5) Now the agent will check your account details and after verification, you will get your CIF number instantly as you can see in the below screenshot.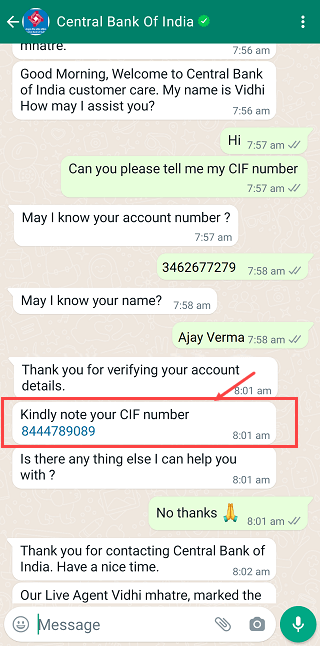 Important: If the mobile number registered on your WhatsApp and Central Bank of India bank account are different, you will not be able to use this facility.
CIF vs. account number: What's the difference?
A CIF, or Customer Information File, is a unique number that banks use to identify customers. It's like your customer ID number. Your CIF number is the same for all of your accounts at a particular bank, even if you have multiple accounts.
An account number is a unique number that banks use to identify specific bank accounts. Each account has its own account number, even if it belongs to the same customer. Account numbers are used to access accounts and perform transactions.
Hope this helps you to find your Central bank of India account CIF number online.