Do you want to check Indian Bank Mini statement on your phone? Yes, now you can check your Indian Bank Account last 5 transactions details on your mobile phone.
Indian Bank is public sector bank owned by Government of India and serving banking services across the country. You can apply for saving account here with just 1000 deposit with all banking products like ATM card, Cheque Book and passbook.
You can check your Indian bank account balance through missed call and if you want to check your Indian Bank account mini statement then follow these steps:
Indian Bank Mini Statement (Last 5 Transaction details)
First of all, you need to install and activate Indian Bank Mobile Banking application – IndPay on your phone. This application available for Android and iOS. Read this: How to register for Indian Bank Mobile Banking
After activation of Indian Bank Mobile Banking, now open the application and log in using MPIN.
After login, tap on My Account and then select Saving Account as you can see below image.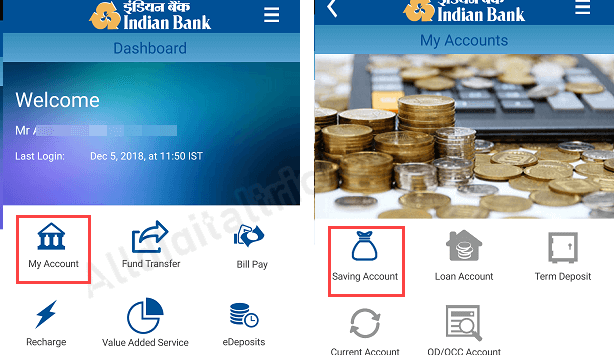 Now select your Account number and tap on Mini Statement.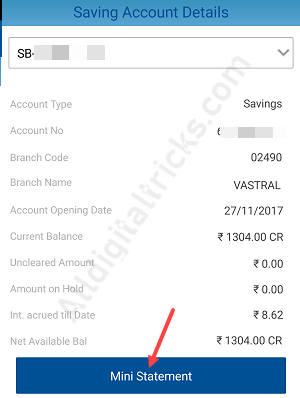 And next screen, you can see the last 5 transactions details of your Indian Bank account.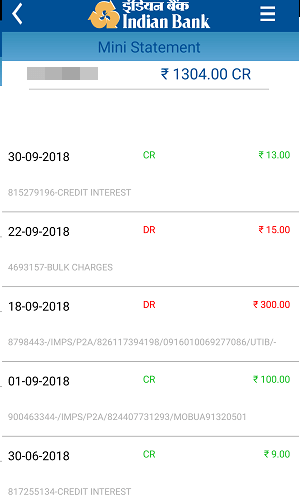 Indian Bank customers can also view mPassbook – a digital passbook on the mobile phone to view transaction activity. mPassbook available on IndPay Mobile Banking application.
Indian Bank net banking another option to check account information online. You can also register your email address to receive account statement on your email inbox.
So this is how Indian Bank customers can check account mini statement online on the mobile phone. No need to visit the Bank every month to update physical passbook.