If you are Indian Bank customer and don't know your CIF number then here we will tell you 3 ways to find your account CIF number.
What is CIF Number in Indian Bank
The CIF number (customer information file) is a 10-digits unique identification number given to every Customer holding a Savings/ Current Account with Indian Bank. Your account number and CIF number both are different.
Find Indian bank CIF Number Online Using Net Banking
If you have Indian Bank Internet Banking facility then you can find your CIF number by login to your net banking account.
Login to Indian Bank Internet Banking.
After login, click on My Accounts (Account details) – Summary. Here you can see your CIF number.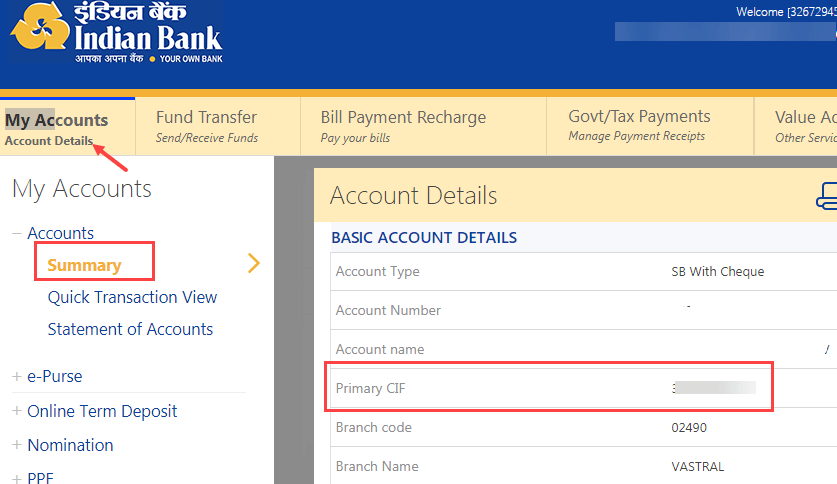 Please note, if you have changed net banking user ID then you can use this option to find your CIF number by login to net banking.
Check your Indian Bank CIF Number on Passbook
Indian Bank customers can easily find CIF number in the passbook front page where your account details printed. Just open the front page and check the 10-digits CIF number.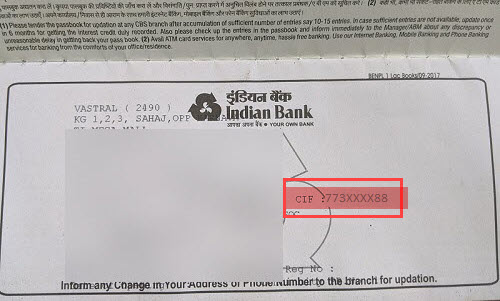 Find Indian Bank CIF number on e-statement
If you have subscribed Indian bank email statement facility then you can also find your CIF number on statement file. Just open the e-statement PDF file and check the account details in statement file.
You can also call Indian bank customer care from a registered mobile number and know about your CIF number.
FAQ
Q.1: How can I get CIF number of Indian bank without a passbook?
Ans: You can check your customer information file number by login to net banking. If you are registered for an e-statement facility then you can find your CIF number in statement PDF file.
Q.2: Can I get my Indian bank account CIF number by SMS?
Ans: No, current no such SMS facility valuable. Please follow the above 3 methods.