Axis Bank Mobile Banking facility allows you to access and manage your account online on smartphone. You can view account balance and statement, manage debit card, change account details, open RD and FD and many online services available through mobile banking.
Now you can Open Fixed Deposit through Axis Mobile Banking instantly. No need to visit the bank, filling the form.
In this post, we will show you how to open FD account through Axis Mobile Banking Application.
Open FD Account Through Axis Mobile Banking Application
If your Axis Mobile Banking not active the read this: Axis Mobile Banking Activation process
Axis Bank FD rates are higher compared than another public sector Bank. It is a good choice to open FD account and get the higher interest rate. See Interest rate here, click
Now see step by step guide and open FD account instantly.
1: Open Axis Mobile Banking and log in.
2: After login, tap on FD/RD option & then tap on OPEN FD.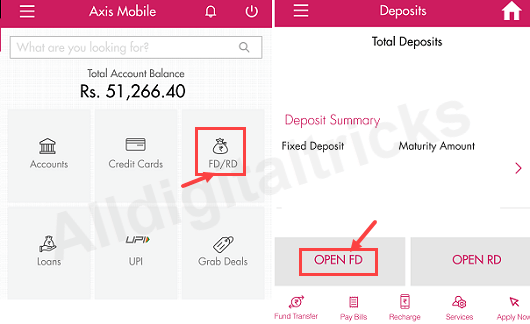 3: Now select your Debit account and tap on continue.
4: Now select Deposit nature, you can select payout monthly, quarterly or maturity. Enter Deposit Amount (min.5000 & max. 10 lac), select duration and tap on continue.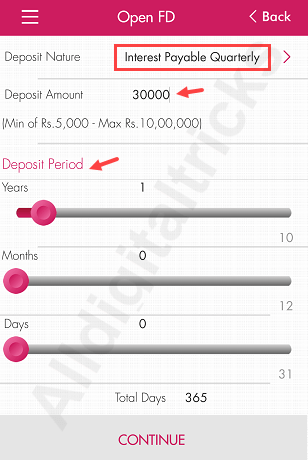 You can see the applicable interest rate on screen. Tap on proceed.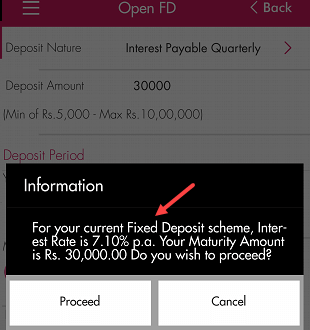 5: Next screen, select maturity instruction (close deposit on maturity or renew), accept terms conditions and submit. You can also add Nominee details (optional).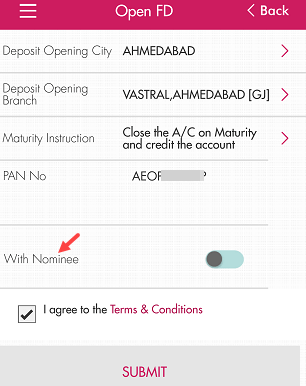 6: Finally, check FD account details and confirm your request. That's it your FD account is opened. You can view FD account details on FD/RD tab.
So this is how you can open FD account through Axis Mobile Banking application instantly.