HDFC Bank customers can check and confirm online whether Pan card and Aadhaar card are linked with HDFC account or not.
If you have a valid Pan card then it is mandatory to link your Pan number with your bank account for smooth transactions, also you need to link your Aadhaar number with your bank account to complete your KYC.
HDFC account holders can check online whether their Pan and Aadhaar are both linked to their accounts or not. Just follow these steps:
Know Online Whether your Pan Card and Aadhaar Card Linked to your HDFC Account
(1) Login to HDFC mobile banking application and click and open menu options. Now select "the "Your Profile" option from the menu and select "Personal Profile" as you can see in the below snapshot.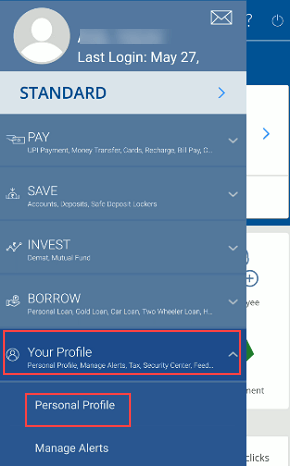 (2) In your personal profile section, you can check your Aadhaar and Pan linking status. Just tap on the "Aadhaar and PAN" option and here you can view your Aadhaar card last 4-digit number and your Pan card number details. If both details are available then your Aadhaar and Pan are linked with your HDFC account.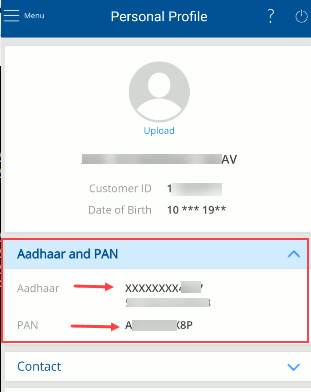 If your Pan or Aadhaar details are missing then you need to link your Aadhaar or PAN with your HDFC account. You can now register or update your Pan details online through net banking.
For Aadhaar, you can visit your branch and submit your Aadhaar copy to link with your bank account.
So if you are an HDFC bank customer and don't know whether your Pan card or Aadhaar card register with your bank account or not then follow the above steps and check it online.