Don't know which mobile number is registered with your Punjab National Bank (PNB) bank account? Well, you can check your registered mobile number through net banking.
It is mandatory for all PNB account holders to register their mobile number with the bank account to receive bank transactions related alerts and One Time Passwords. By registering your mobile number with your bank account you can also check account balance through the missed call.
To access net banking and mobile banking online services, you must have to register your mobile number with the bank.
If you are PNB customer and want to know your registered mobile number linked with your pnb account then follow these instructions:
Know your PNB Registered Mobile Number
You can view your linked mobile number through PNB net banking.
Visit PNB net banking page and click on Retail Internet Banking.

Enter your User ID and login password to login net banking account.
After login, click on Personal settings and then click on View Registered Mobile Number.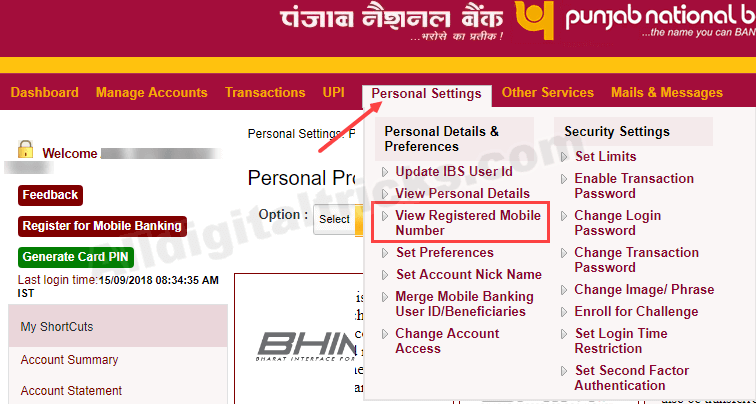 On the next screen, you can see your registered mobile number which linked with your bank account.
You can also check your passbook front page to know your registered mobile number. When you complete any transaction online or offline, you will receive transaction SMS alert on your mobile number, yes that is your registered mobile number.
There is no online option to change your registered mobile number, you need to visit your home branch to update your number by filling up form.
So this is how PNB customers can view/check their registered mobile number online through net banking.