With Kotak Bank Cash Pickup home banking service, you can now deposit your money at home. Bank person will visit you and collect your cash and deposit to your account.
Kotak Mahindra Bank Cash PickUp doorstep banking facility that offers you hassle-free, complimentary cash Pickup services from your communication address. Kotak Cash Pickup service is currently available in 89 selected cities.
Minimum and maximum amount for Cash Pick Up request are Rs 5,000 to Rs 200,000 for Savings Account and Rs 5,000 to Rs 500,000 for Current / Overdraft Account.
How To Request for Cash Pickup Service in Kotak Online
Kotak Cash Pickup facility is available thru net banking. You can log in to net banking and request for Cash Pickup.
Login to Kotak Internet Banking.
After login, click on Banking tab. Now click on Service Request – New Service Request.
In Home Banking, click on Cash Pickup.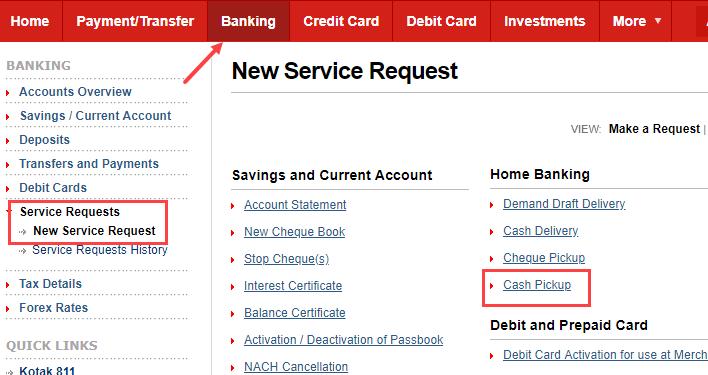 Now select your Account number, enter deposit amount and select your Address. Now submit your request.
After submitting Cash Pickup request, the bank person will visit your address and collect your cash for deposit. For deposit thru the Cash pickup facility, please also handover an authorization letter with your self-attested ID proof.
Charges: If you have a normal saving account then you will be charged Rs.150 per visit. Kotak Pro saving account holders can request 2 free calls for cash pickup.
See below timing details for Kotak Cash Pickup facility.
| Fulfillment and Credit Details | Request placed between 9.30am to 12:00 noon (working days) | Request placed between 12:00 noon  to 4pm (working days) |
| --- | --- | --- |
| Request within city limits | Same day | Same day |
| Request outside city limits | Same day | Same day |
| Request for both (within and outside city limits) on Saturday | Same day | Next working day |
| Credit in account if the request is within city limits | Same day | Next working day |
| Credit in account if the request is outside city limits | Next working day | Next working day |