Kotak Mahindra Bank has also launched Debit card EMI facility for selected customers. If you are eligible for Kotak Debit card EMI facility then you can also purchase products on EMI (online and offline) using your Debit card. Eligible customers will get a pre-approved limit for Debit card EMI, you can buy products in this limit.
Benefits on Kotak Debit card EMI
You don't need to submit any document if your Debit card is eligible then use your card at any store online/offline and buy products on EMI
No need for the security deposit or down payment
Buy any products under your Debit card limit and conversion to EMI with flexible tenures of 3 months, 6 months, 12 months, etc
You can Pay EMI though saving/current account. You can also enable auto-debit so your account debited automatically on EMI date.
How To Check eligibility for Kotak Debit Card EMI
My Kotak Debit card eligible for EMI and I can purchase any products from Amazon on EMI using my Debit card. Currently, my Debit card working only on Amazon.
To check your Kotak Debit card EMI eligibility, you just need to send an SMS from your registered mobile number.
SMS CDL<space><Your PAN Number> to 5676788 to know your pre-approved limit.
You will receive a reply SMS from the bank "congratulations, you have a pre-approved limit of up to Rs.XXXXX  from Kotak customer finance'
How to use Kotak Debit card EMI for Online Shopping
If you are going to shop on Flipkart & amazon using Kotak Bank Debit card EMI then first make sure you are registered on Amazon and Flipkart with the same bank registered mobile number.
Currently, My Kotak Debit card EMI works only on Amazon. I can see EMI option for my Kotak Debit card only on Amazon.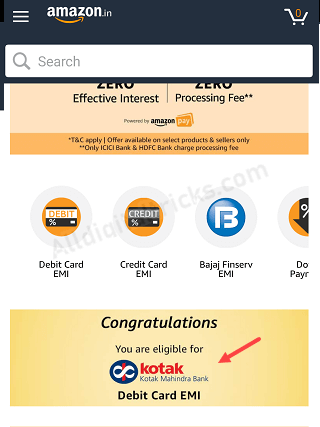 How To buy Products online using Kotak Debit Card EMI?
Open the Product page and tap on EMI options. Here you can see the Debit card EMI option, tap on it. You can see Kotak Mahindra Bank Debit card. It means you can buy this product using Kotak Debit card EMI.
Proceed to the payment page and select EMI option. Enter your Kotak Debit card 16-digits number, expiry date and year, select EMI tenure (3, 6 or 12 months) and complete the payment.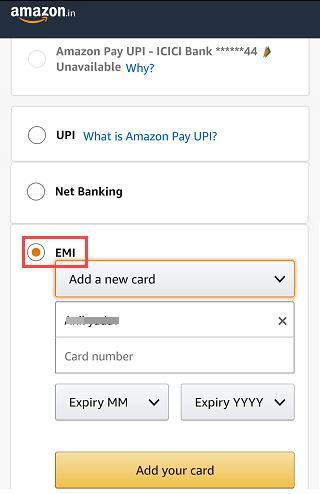 Once your payment complete, you will receive SMS from the bank and you can view your EMI status through Kotak Mahindra Bank's Net-banking. Please follow these steps:
Login to Kotak Net Banking
Check 'overview status'.
EMI will be deducted from your saving/current account automatically. You can check statemen through mobile banking and net banking. Please keep enough amount in your saving account.
You can read all related queries here