Want to Link Aadhaar card with your ICICI bank account? – So this article will show you 4 different methods
With these 4 different methods, you can link online/offline your Aadhaar card with ICICI account.
It is now necessary to link your Aadhaar number with the bank account andPAN card as you know it. And by the way, to get a gas subsidy, it is necessary to give the aadhaar number with the bank account.
If your Aadhaar card is not linked with your ICICI account then you can link through these 4 methods.
So let's begin.
Link Aadhaar Card with ICICI Bank Account
You don't need to visit Bank to link your Aadhaar with ICICI Bank account. Follow below online methods and link your Aadhaar instantly.
1. Using ICICI Internet Banking
If you have the facility of ICICI Internet Banking then this work is done within seconds.
First, log on to ICICI Net Banking, visit: https://www.icicibank.com/
After logging in, click on My Profile
You can see the option of Aadhaar Card on My Profile, click on Update
Now type your Aadhaar number in the next screen and submit it.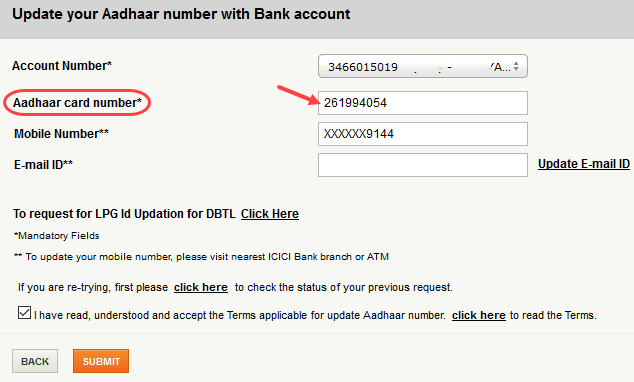 2. Using ICICI iMobile Application
You can do all the work of banking on the iMobile application, if you have not started using it yet, then you are missing a lot.
On iMobile you can also link your Aadhar number to your account.
First, log in to iMobile Banking App.
After logging in, you have to open Smartkeys & Services.
Now tap on Instabanking Services in the next screen
In Instabanking Services, you can see the option of Update Aadhaar, tap & open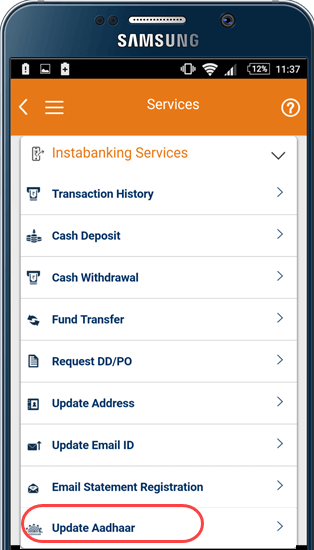 Simply submit your 12-digit number of aadhaar number to the next screen.
3. Link Aadhaar through SMS
If you do not have internet banking or iMobile banking then you can also send an SMS from your registered mobile number to link Aadhaar with your Bank account.
Type in the message box-
Aadhar<space>12-digit number6-digit account number & Send to 9222208888
For example – Aadhar 2619XXXX4657301098
4. Fill Offline Form & submit
You can also submit offline application, visit the bank and fill out the update form.
First, download this update form and take printout.
Now fill the aadhaar updation column and fill all other details and submit to the bank.

So in this way, you can link the Aadhar card with your ICICI bank account by following these 4 methods.
More ICICI Related Articles: