Here is the step by step guide how to link Aadhaar card with your Canara bank saving account online without visiting branch.
According to government directives, it is mandatory to link Aadhaar and to your bank account before 31st March 2018. India's one of the largest and old Canara Bank offers both online and offline facilities to its account holders for linking Aadhaar to their bank account.
Canara bank customers can follow the below online process and link Aadhaar with bank account without visiting the home branch.
Canara Bank Account – Link Aadhaar Online
For the online linking process, you must have the net banking facility. If you are not registered with net banking then read this guide how to activate it online – How to activate Canara bank net banking online
Now follow the below process:-
1: First of all login to Canara Bank net banking, enter user id and login password.- https://www.canarabank.in/
2: After logging in, click on Services — Others — Update Aadhaar Number
Now enter your 12-digit Aadhaar number, select your account number and click on update.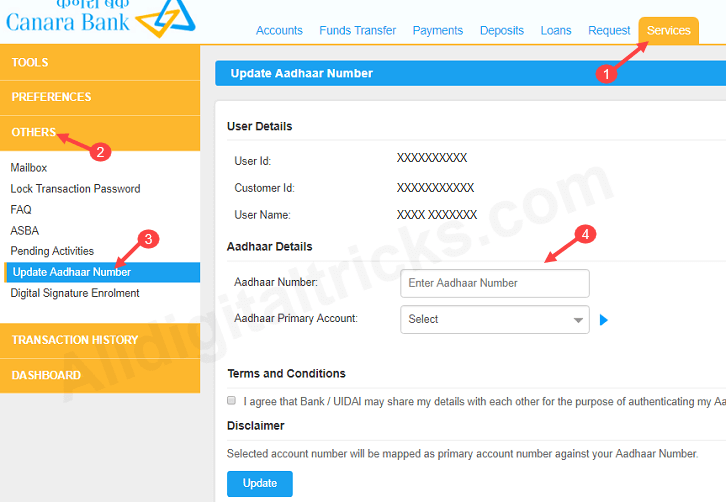 3: In next screen confirm your request by clicking on Submit button.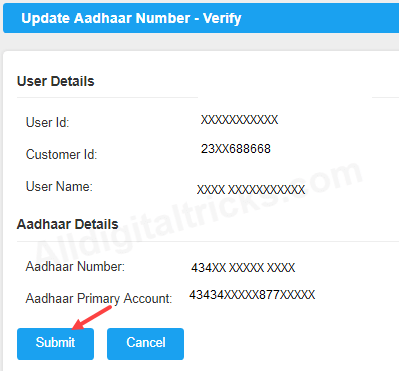 That's it your request for Aadhaar linking submitted successfully. The request will be processed and validated with UIDAI. You will receive an SMS alert about Aadhaar linking.

You can also follow the offline process to link Aadhaar with the bank account. Visit your bank and submit your Aadhaar copy directly.
So this is how Canara bank customers can link aadhaar with their bank account online through net banking. You need to complete this process before 31st march 2018.
How can I know my Canara Bank Account link with Aadhar?
You can check online whether your Canara bank account linked with Aadhaar or not. To check your Canara Aadhaar linking status, log in to Internet Banking.
After login, click on Services – Others – Update Aadhaar Number. Here you can see your Aadhaar number mentioned with your Account number. That means your Aadhacard card linked with your Canara bank account.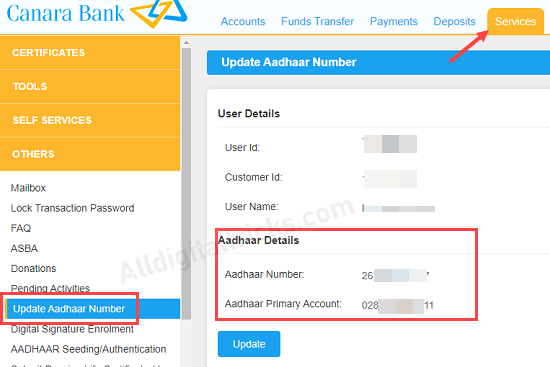 Read More: