Are you struggling to link or update your Aadhaar with your Axis Bank account? Worry not,! Here, you'll find two simple and efficient online methods to link your Aadhaar with your Axis Bank account, without the need to physically visit the bank. Our process is hassle-free and ensures quick results, so you can rest easy knowing your account is up-to-date with your Aadhaar information.
You just need your Aadhaar card number and your registered mobile number to complete the linking process. If you have these two things then follow these two online methods now:
1. Online Aadhaar Linking with Axis Bank Account: A Convenient and Hassle-Free Process
(1) You can easily link your Aadhaar card with your Axis account through the Mobile Banking application. All you need to do is open and login to mobile banking and go to "More" OR find the "Services" section.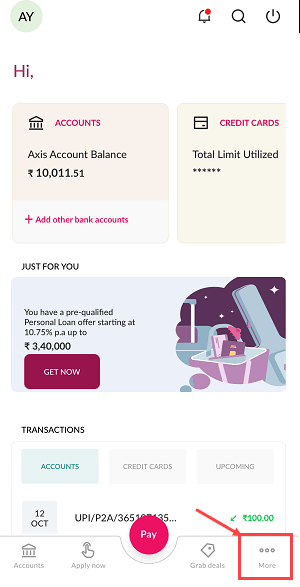 (2) Now go to "Services — Accounts"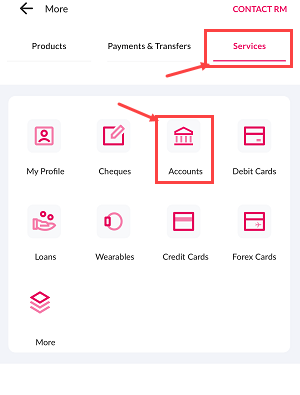 (3) You will get "Update & Seed Aadhaar" option in Accounts" Proceed with this option to link or update your Aadhaar card.
(4) On the next screen you will be asked to enter your Aadhaar number or Virtual ID number. Enter your Aadhaar number and click on "Generate OTP" (You will receive OTP on your Aadhaar-linked mobile number when you click on the Generate OTP button)
(5) Enter your One Time Password (OTP) and submit. (If you haven't received your OTP then you can generate OTP again)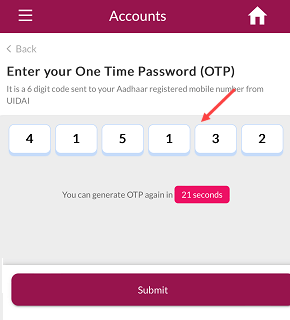 (6) And it's done! Your Aadhaar is successfully linked or updated with your Axis Bank account. You will receive an email confirmation.
2. Link Aadhaar With Axis Bank Account through Net Banking
For some reason, if you are unable to use mobile banking then you can link or update your Aadhaar with an Axis Bank account using Internet banking. The process is the same, just you need to find the "Link and Update Aadhaar" option.
Login to your Axis Net Banking account with your user ID and password. Now Open the "Services" section where you will find the "Accounts" section, expand it and you can see the "Update and Link Aadhaar" option. (please check the below screenshot for more details)
Next, enter your Aadhaar card and then authenticate with the OTP sent on your Aadhaar registered mobile number and submit.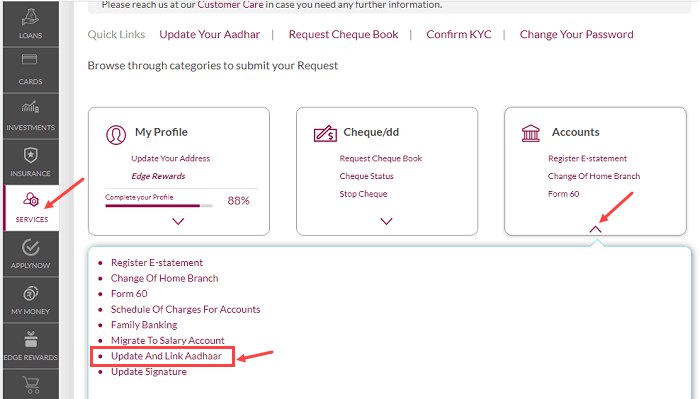 We hope this will help you to link your Aadhaar with your Axis Bank account. You can re-link your Aadhaar if you have recently updated any details by following the above two online methods.