The government of India has made it mandatory to link your PAN CARD (10 digits permanent account number) with your Aadhaar card (12-digit Aadhaar number issued by UIDAI) for income tax return file.
The sources say, by end of this year if your PAN Card is not linked with your Aadhaar card, then your pan card will become invalid.
So if you have PAN CARD (no matter you are a taxpayer or not), you have to link it with your Aadhaar card.
Today we will tell you how can you Link your PAN CARD with your Aadhaar card Online
1# Link PAN CARD With Aadhaar Card Online
The process is very simple and take just 1 minute. see how:-
Step.1: First visit the income tax department's official website:: https://www.incometaxindiaefiling.gov.in/home
After opening the website, click on the Link Aadhaar as you can see below the screenshot.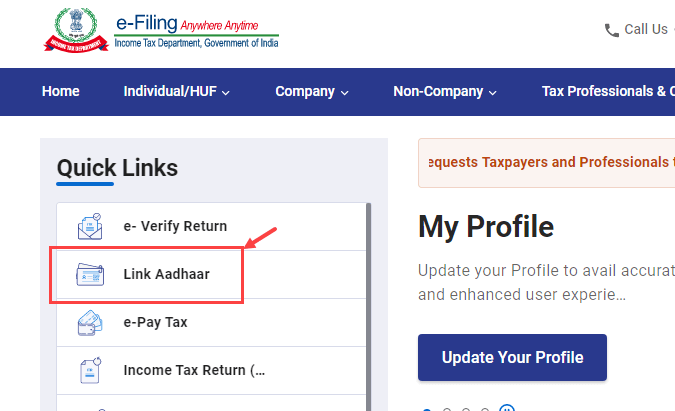 Step 2: On Link Aadhaar Page you have to enter your PAN number and Aadhaar number. Fill (*) mandatory details.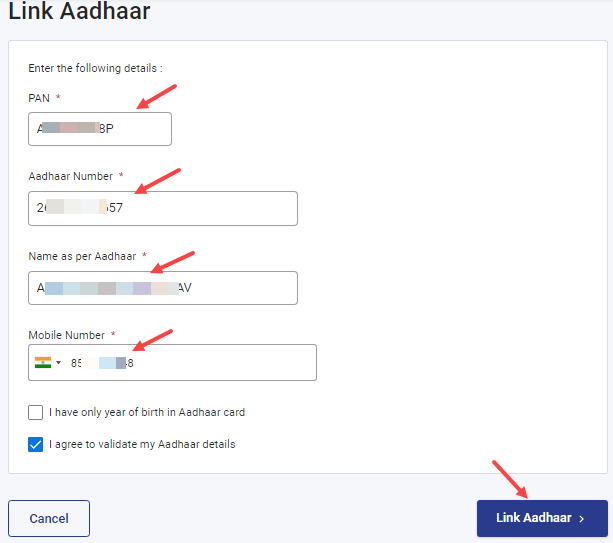 PAN: Enter your PAN Card number
Aadhaar Number: Type your 12-Digit Aadhaar card number
Name as per Aadhaar: Type your name as per the Aadhaar card
If you have only year of birth in Aadhaar card then select this option, else leave it.
Now click on Link Aadhaar.
That's it, next screen you can see a successful message that your Pan card is linked with your Aadhaar card successfully.
Check PAN Card – Aadhaar Card Link Status
If you don't know whether your Pan card is linked with Aadhaar or not then you can check Aadhaar -Pan linking status online.
Visit Aadhaar PAN Linking Status Page. Enter your Pan card number and Aadhaar number and click on View Link Aadhaar Status.

And the next screen you can see the status like the below screenshot.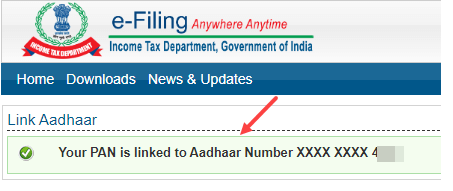 Error while Linking PAN CARD With Aadhaar
Some users are facing errors while they link the pan card with Aadhaar card.
The main reason behind this is "your pan details and aadhaar details are not matched. If the system detect any mismatch in details then your request failed"
Most of the time Aadhaar card and pan card name not matched, so check your aadhaar-pan name details. If you find any mismatch in the name then simply correct your aadhaar card name.
Once your Aadhaar name is updated, you can link with your pan card.
2. Link Aadhaar-PAN Through SMS
And here is another method to do this work. The income tax department has launched an SMS facility.
If your PAN card and Aadhaar card name are same then you can easily link both via SMS.
Type below SMS and send to 567678 or 56161
UIDPAN<12-digit Aadhaar><10-digit PAN>

For example: UIDPAN 111122223333 AAAPA9999Q
So by following these steps, you can link pan card with Aadhaar card Online and by SMS.
FAQ
Q.1: How to check Pan Aadhaar Link Status Online?
Ans: Please follow the above instructions to check Pan – AAdhaar link status online.
Q.2: I'm getting an error while the linking process, why?
Ans: If any details mismatch in Pan and Aadhaar then you will get an error. Please make sure your Pan- Aadhaar details are the same.