Kotak 811 zero balance saving account is completely your digital saving account which you can open online on smartphone and manage on Kotak Mobile Banking Application. Anyone who is above 18 years of age can open their 811 saving account.
Here we will tell you how to deposit or load money into Kotak 811 account.
You can load up to 1 lac without kyc account and after competing full kyc you can deposit up to 2 lac. To complete full-kyc you need to visit bank within 1 year after opening account.
Ok so let's see how to load money in to Kotak 811 account.
Deposit / Load Money in to Kotak 811 Account
There are many way to add money in to your 811 saving account.
See how:
1# Deposit on Kotak Mobile banking App
If you have an account in any other bank, you can add money directly to your 811 account through Kotak mobile banking. You can use Internet banking or Debit card to load money.
1: Login to Kotak Mobile banking App first.
2: After logging in, you have to tap on the Banking tab and then tap on Kotak 811.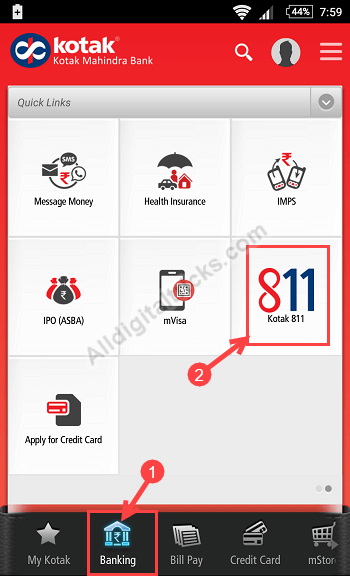 3: In the next screen, you have to enter Amount (minimum Rs.1000) in the Deposit Amount and tap on Fund My Account.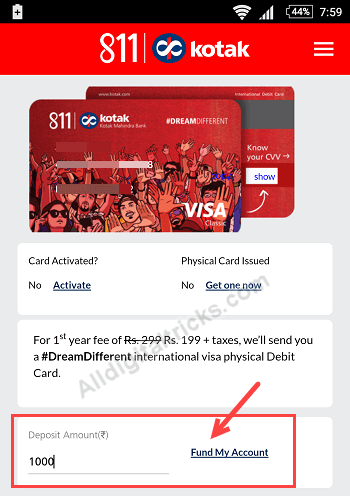 4: Now in the next screen you have to choose Debit card or net banking option. Login to Internet banking or enter details of debit card and make payment.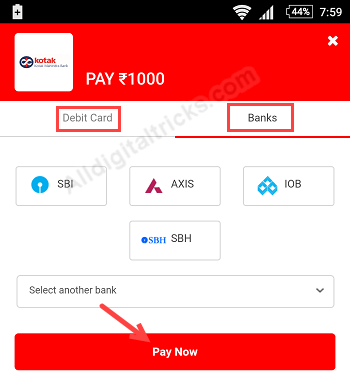 5: After adding money successfully, you can see successful transaction message. The money will reflect in your account within an hour.
2# Add Money From other Kotak Bank Account
If you have another kotak saving account then it is easy for you to transfer money in Kotak 811 account from that account. Let me clear, you can apply 811 account even if you have other saving account.
1: Open Fund Transfer tab in Kotak Banking App.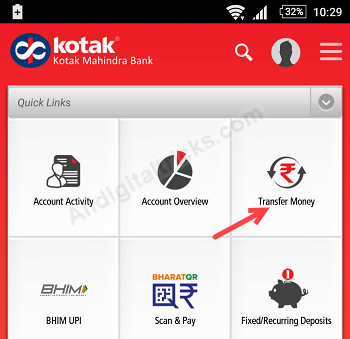 2: Now in Transfer from, select your saving account and select 811 account in transfer to. Enter Amount and click Pay Now.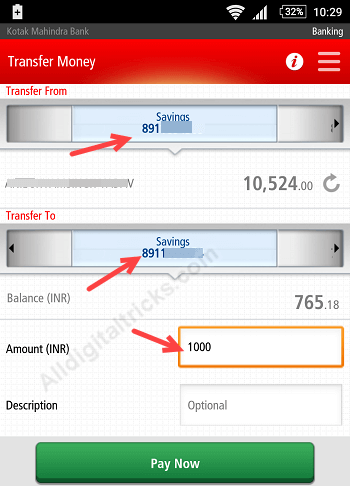 The money will be credited to 811 account immediately.
3# Transfer Money from other bank Account online
If you have other bank saving account then you can add 811 account as a beneficiary and then transfer money in to it.
1: Suppose you have SBI saving account and want to transfer money to 811 account. First Add 811 account as beneficiary and then transfer money.
2: You can use IMPS or NEFT method to transfer money. IMPS is faster way to receive money.
If you are going to transfer Rs.10000 from SBI account to 811 account then you don't need to add beneficiary, you can transfer 10000 amount without adding beneficiary using quick transfer facility.
4# Cash Deposit To Bank
And the last option is visit your branch and deposit money in cash or cheque. To use this facility you must have to complete your full-KYC.
So this is how you can deposit money in to your Kotak 811 account. If you have other saving account then use IMPS facility to load money easily.