When you apply for Aadhaar card, your fingerprint and iris data is also taken, we call it biometric data. Your Biometric Data is used for Aadhaar verification.
For instance – To get new SIM card now Aadhaar card is mandatory. The person will enter your Aadhaar number and scan your fingerprint to verify your Aadhaar card. This is what we call e-kyc.
Some people have complained that they received email notification that someone else is using the biometric data of their Aadhaar card but failed.
Some people have also raised concerns about the security of sensitive personal information that they may share when they do biometric authentication using Aadhaar.
To protect your Biometric Data, now you can Lock it online and also you can Unlock again when you needed.
Today I'm going to tell you how you can lock the biometric data of your Aadhaar card in 2 easy ways.
Lock/Unlock Aadhaar Biometric Data Online
When you Lock your Biometric data, nobody can complete verification process of aadhaar. To complete verification process, first you need to unlock it.
So this is the security layer to protect your private data.
You can lock or unlock your Aadhaar Biometric Data by following these 2 Methods.
Let's see: –
1. Through mAadhaar Application
For your information, that UIDAI has launched its official mAadhaar application. Using this application you can keep your aadhaar on your smartphone, no need to keep physical aadhaar card. Including this you can also Lock/unlock your biometric data.
To use mAadhaar, your mobile number must be registered with Aadhaar card.
After registering on mAadhaar, open options.
In Options, you have to tap on Biometric Settings.
In Biometric Settings, you can see "Enable Biometric Lock" just check (√) this option and you are done.
If you want to unlock, uncheck the "Enable Biometric Lock" option.
2. Visit UIDAI website
You can also lock/unlock your Aadhaar Biometric by visiting the official website of UIDAI.
First open UIDAI's website:
1 Now here you can see the option of Lock / Unlock Biometrics, click on it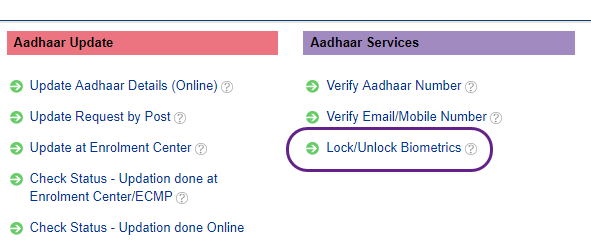 2 Next you have to type your 12-digit Aadhaar Number & Security code and click on Send OTP.
3 After clicking on Send OTP, you will receive an OTP on your registered mobile number which you have to enter in the Enter OTP column.
Enter OTP and click Login
4 After logging in, type your security code and click Enable to lock your biometric.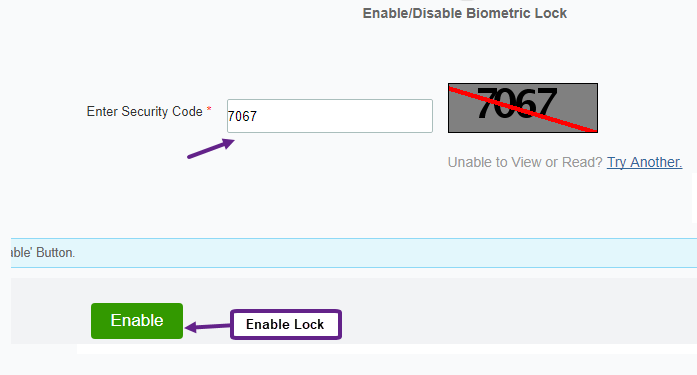 That's it, now no one can misuse your Fingerprint / Iris Data.
If you want to unlock Biometric data then log in again.
After logging you will get 2 options:
Unlock
Disable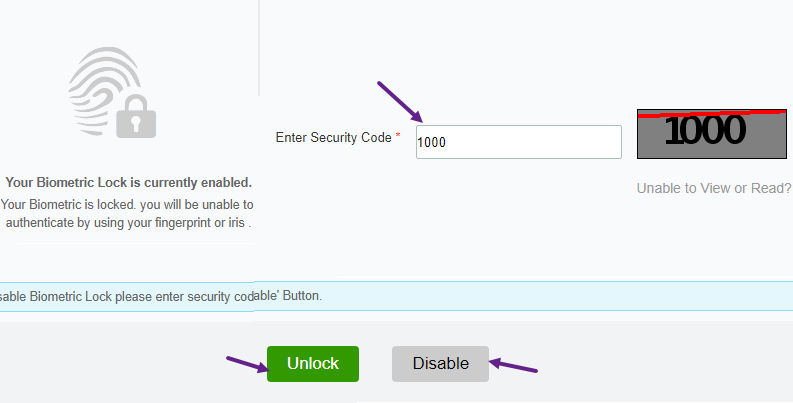 If you click on the Unlock option — your biometric data will unlock only for 10 minutes and then i will be automatically locked.
And if you disable, your lock will be disabled and you have to again Enable it.
Last Note
So by following these two simple methods you can lock or unlock your Aadhaar Biometric data online. Your Aadhaar card is completely safe and no one can misuse it. People have many questions about its security in mind, but they are all baseless.