For your information, let me know that there are 2 official websites of Income Tax to apply online PAN CARD, where you can send online PAN CARD application and receive your PAN card at home.
There are many websites on the Internet that provide services for making PAN cards, in fact these websites charge extra fees almost Rs.500-600 which normally just Rs.107. Those who do not have information, they pay this huge fee and get their pan card.
But I would like to tell you that you can make your own PAN card without any help from such websites or agents. Income tax has provided 2 websites for this where you just need to fill online form, pay Rs.107 fees and you are done.
Let me tell you about those two websites.
Official Website for PAN Card
One thing I would like to tell you is that if you have an aadhar card then it is very easy for you to apply online for PAN card. If you apply with Aadhar card, you do not have to submit any document, not even a photo. All work is paperless.
And suppose you do not have a Aadhaar card, you can upload Documents and submit the application by filling out the online form. In this you have to submit Documents to income tax office with Acknowledgement slip.
The two official websites I am talking about are:
These two websites where you can apply pan card online.
https://www.tin-nsdl.com/
After visiting this website, you can view different online services related to PAN Card.

If you want to apply your Pan Card using Aadhar Card, you have to click on Paperless PAN Application. As I said that you do not have to upload anything, just paying Rs.107 fee, you have to verify your Aadhar card.
If you do not have Aadhar Card, then you have to click Apply for PAN Application online. In this you have to fill up form, upload documents and take print-out of Acknowledgement slip. Now submit Acknowledgement slip with documents to income tax.
You can also check the status of your PAN application, click on Know Status of PAN / TAN application.
https://www.utiitsl.com/
You can also apply pan card through this website.
After visiting the website you have to click here "To apply for new PAN Card or Change / Correction and other PAN related services, click here"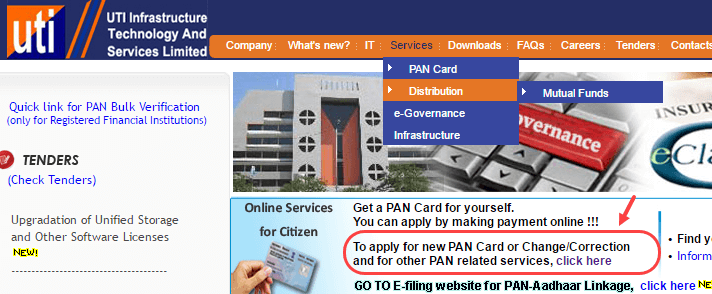 Now on the new tab, you have to click Apply as an Indian Citizen / NRI.
Here you can see different options.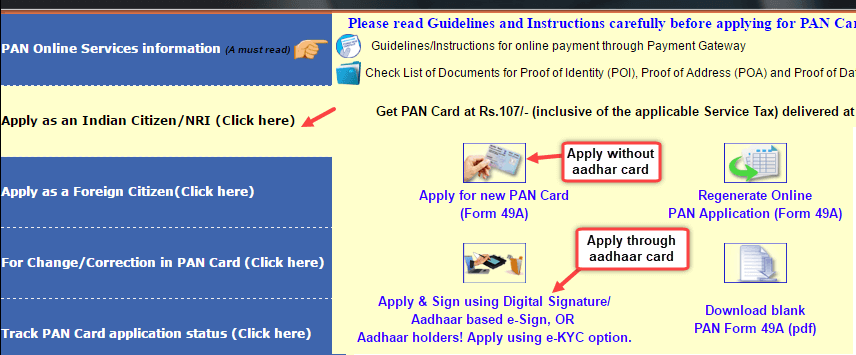 If you want to apply with Aadhar Card, you have to click on this option – Apply & Sign Using Digital Signature / Aadhaar based e-Sign, OR Aadhaar holders! Apply using e-KYC option
If you do not have the Aadhar card, you can submit the online application by clicking on Apply for a new pan card (form 49A).
So these are two official websites to apply pan card online. After submitting application, your pan card will be delivered at your home within 40 days